New year, new resolutions: diet, gym, languages...all these are great but...what if we start with something less painful and easier?
What if we start the year upgrading the products we have installed on our computers? No more old and unsupported versions. Plus we can enjoy the new functionalities. And the most important thing...we will have already achieved something this new year! Are you yet convinced? Let's go then!
First that all let's check which version do we have installed.
To do that open LiteSpeed console and select Help|About: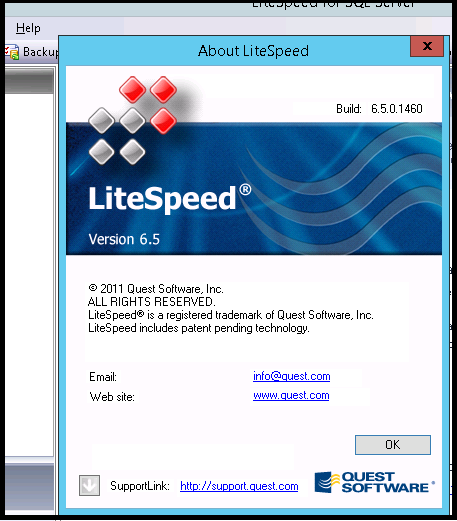 In this example we have version 6.5.How do we know whether this version is supported or unsupported?
We can check this on the Product Life Cycle & Policies tab here

According that table, version 6.5 is considered discontinued which means:
Includes release/versions which are retired or discontinued.
No new patches or fixes will be created for this release.
Release is not available for download from the Support Portal.
Support will be provided to assist with upgrading to a supported version.
Support is not obligated to provide assistance on this version of the product.
Come on! It is time to upgrade to a supported version:
Product is fully supported, generally available release/version.
Includes most current released version of a product and one or more prior releases.
Enhancement requests for this release are accepted and may be considered for future releases.
Maintenance releases and/or hot fixes are periodically made available for this release.
Release/version is fully supported by both Support and Development.
Release/version is available for download from Support Portal.
In order to download the new version,we need a valid maintenance contract. If your maintenance contract has expired please contact your sales representative or renewals.
When upgrading to version 8.6 or up (it is always recommended to upgrade to the latest version available), please make sure you have a license key for the new version of LiteSpeed for SQL Server as it has changed. The installer will pick the older key anyway but I would ask for the upgrade key and use that one instead.
In order to get the new key please contact licensing, provide the old key and ask for an upgrade key. You will notice the new key consists just in the authorization key and it does not contain a site message.
Now let's download the latest version from the portal.
Can you download the software?

Yes? Let's continue!.
No? Are you having any problems? Please contact our support administrators at supportadmin@quest.com or just phone us.

Before starting the upgrade, ensure that your system meets the minimum hardware and software requirements. This can be checked in the System Requirements section on the Release Notes.
Once you have all these ready, open the Installation Guide and follow the instructions there.
And....hold on! We have three questions!
Westley : How long will the upgrade take?

Answer:In general the upgrade is not a long process.
It depends on the environment of course but we have seen upgrades on larger cluster environments that just took about 10 minutes.
Anyway you can always schedule this after hours or when the server is less busy.
Inigo: Can the upgrade affect any non LiteSpeed jobs?

During the upgrade, we need to disable LiteSpeed jobs. You will see in the upgrade guide that you can do this on LiteSpeed itself. If you select this option only LiteSpeed jobs will be affected.
There is also another option which is to stop the SQL Server Agent instead. Be aware that if you select this option no other SQL Server Agent jobs will be able to run so this obviously could affect other third-party application jobs.
Anyway this is also detailed in the guide.
Buttercup: My central repository is huge. What does the upgrade do to the central repository?I am worried this makes the upgrade to take a lot.

The installation just upgrades the central to the new version and add new fields if needed.This should not take long either.

And that is all! Hope this helps and thanks for reading!