A regulamentação General Data Protection Regulation (GDPR) ficou efetiva desde o dia 25 de maio de 2018.
O GDPR atinge todas as organizações com mais de 250 funcionários, em todas as indústrias, e em todas as regiões, mesmo aquelas que estão fora da UE, mas que coletam e armazenam informações pessoais de cidadãos da UE.
Essas informações pessoais podem ser o nome, foto, endereço de e-mail, detalhes médicos, detalhes bancários, posts em redes sociais e muitas outras informações relativas a privacidade do cidadão.
Um dos pontos importantes sobre essa regulamentação é que quando ocorre uma violação de dados, as organizações devem notificar a Autoridade de Proteção de Dados (DPA) local e todos os clientes afetados dentro de 72 horas. As violações da conformidade com o GDPR podem gerar constrangimento público para a organização, multas pesadas de até quatro por cento da receita global ou 20 milhões de euros (o que for maior).
Para as empresas que se enquadram na regulamentação do GPDR se tornará agora ainda mais crítico responder questões do tipo:
-Onde estão os dados confidenciais armazenados? Quem está acessando e quem deve acessá-los?
Mas isso não deve se restringir apenas as empresas que enquadram no GPDR, esse deve ser uma conscientização geral
Um ponto importante sobre o GDPR é que as empresas devem ter o controle das informações pessoais das pessoas de forma que seja transparente o seu uso e lhes garanta o direito da total exclusão dessas informações caso seja solicitado.
Esse talvez seja um ponto inicial para que o conceito de direito ao esquecimento (Right to be forgotten) onde os indivíduos têm o direito civil de solicitar que as informações pessoais sejam removidas da Internet seja enfim aplicado.
Sobre as violações dos dados no que diz respeito o GDPR temos por base os pilares da segurança da informação conhecido como CIA (Confidentiality, Integrity and Availability) no português, confidencialidade, integridade e disponibilidade:
Confidencialidade - Divulgação não autorizada ou acesso a dados pessoais
Integridade - Alteração não autorizada de dados pessoais
Disponibilidade - Destruição acidental ou ilegal ou perda de dados pessoais
A segurança e a conformidade com o GDPR é um processo circular contínuo dividido em três pilares.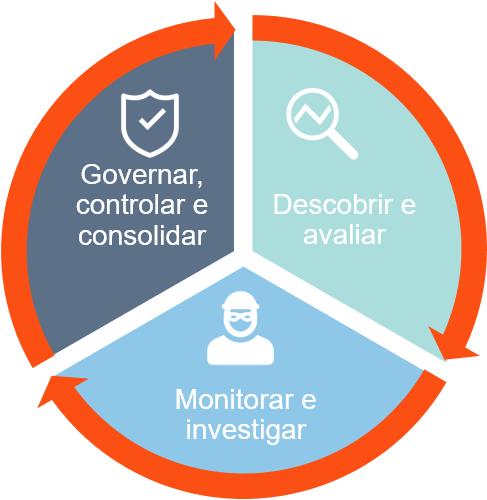 Governar, controlar e consolidar
Este pilar é o responsável por reduzir o risco e garantir agilidade:
Simplifique processos e segurança
"Mudança Segura" - reduza o risco de mudança por meio de automação
Restaure as operações de negócios rapidamente
Minimize a superfície de ataque
Ativar propriedade por meio de delegação
Modernize e consolide
Soluções Quest que que ajudam a alcançar esses objetivos:
Descobrir e avaliar
Esse pilar permite que você conheça e planeje seu ambiente de TI
Obtenha insights: saiba quem, o quê e por quê
Ative a identificação de acesso inadequada
Garanta acesso privilegiado com menor risco
Visibilidade em ambientes complexos
Solução Quest relacionada
Monitorar e Investigar
Se refere a capacidade de conformidade operacional
Aplicação Automatizada de Políticas
Detecte e audite atividades suspeitas ou acesso não autorizado
Gere alertas em tempo real
Evite alterações críticas ou acesso não autorizado
Investigue rapidamente com análise forense
Retenção de log de eventos de longo prazo
Soluções Quest relacionadas
Para saber mais acesse www.quest.com/GDPR