For those that have used Dell's solutions to migrate from Notes or GroupWise to Office 365 over the past couple years, you are probably familiar with the Admin Account Pool feature to maximize throughput and migration efficiency.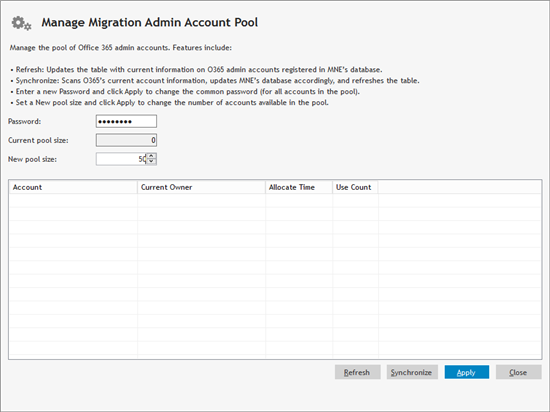 For any of you that are not familiar with this feature, it automatically creates and manages a pool of administrative accounts that are leveraged by migration threads as they migrate mailboxes to Office 365. The best practice recommendation is to ensure the Admin Account Pool contains enough accounts, so that each simultaneous thread has access to unique admin credentials for the migration.
For the past couple years, this feature has helped organizations optimize their migrations to Office 365 without the burden of managing the required accounts.
In the past few weeks, however, we began receiving reports of issues connecting to target mailboxes when using the Admin Account Pool. After some investigation, we determined that these errors can be eliminated by licensing the accounts within the pool. Since its inception, the Admin Account Pool has used unlicensed admin accounts because they are only used when accessing target mailboxes of licensed users. However, something appears to have changed recently within Office 365 that is resulting in connectivity issues.
We are actively working with the Office 365 product team to isolate the potential change and determine appropriate corrective actions. There will also be new releases of Dell's solutions in the coming weeks that automate the licensing (and de-licensing) process for the Admin Account Pool. In the interim, these accounts can be licensed manually or via PowerShell to eliminate any connectivity issues that arise.
We will keep you posted on our progress and provide updates as they become available.
Happy migrating!