With increasing frequency, I've been asked about Quest's partner strategy in the SharePoint space and it got me thinking, "how do we define our partner strategy?" Surely, the operative word there is partner, so I thought, "what would Daniel Webster have to say about this?" Here's the answer: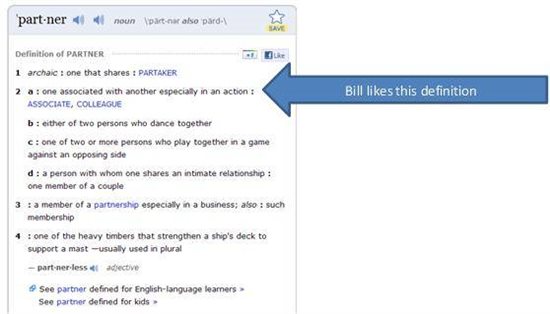 Ok, I have to admit, I didn't think that but it is a clichéd way to start a blog post so I felt compelled to include it.
Seriously, though, I do want to spend a few minutes and explain what we are and are not doing in the partner space.
Here's what Quest is NOT doing
For those of you that know me, you know that I have a vast amount of experience in the software game with much of that in a marketing role. I have seen more than my fair share of "press release partners." You know the situation. Two companies come together with but a thread of commonality and thinks it's a good idea to partner (because it is somebody's MBO to sign up as many "partners" as possible). The PR team gets involved, a press release is born and floated over the wire and "poof" a partner is born.
And then nothing ever comes of it.
We're not doing that because we don't have to.
Here's what Quest is doing
First, some more definitions. In the SharePoint business unit, we refer to our SharePoint partners as "smartners" because we think they are just a wee bit smarter than your average, run-of-the-mill partner. You will hear us refer to this term in some of our materials and during our public presentations. What is the hallmark of a smartner? Well, it's a smart systems integrator (SI) that deals primarily or exclusively with SharePoint.
Definition two: The Quest Partner Circle. At Microsoft's Worldwide Partner Conference in 2011, Quest launched a consolidated partner program called the Quest Partner Circle. While you can read all about it here (QPC), the salient point for this blog is that Quest now classifies partners into three categories:
Elite
Premier
Registered
Here's how these definitions translate for us in the SharePoint Business:
Elite SharePoint partners are our top tier partners. These are the top SharePoint SIs in the world. We refer some prospects to them and we share account information. They are trained on the Quest solutions and as a result, they get the top level discounts. There are even MDF funds available to them. We intend to limit the number of Elite SharePoint partners to less than 15 globally and we have not yet filled all those slots.
Premier SharePoint partners are similar to Elite partners in that they are familiar with the Quest solutions and are afforded product discounts and marketing support to help drive interest and demand in the marketplace.
And finally there are the Registered SharePoint partners. These SIs typically contact us opportunistically. They might have one or more migration deals or are developing some app and need Web Parts to make their efforts more efficient.
Regardless as to which partner level a smartner might be in, we have created specific licensing programs to make their efforts profitable for the SI as well as Quest *and most importantly* provide an excellent and affordable solution to our joint customers.
And regardless as to whether an SI might be elite, premier or registered, our ongoing mantra of simple, focused and fast applies. We make engaging with Quest swift and efficient and even have our own smartner site with everything you'll need to get started including a "welcome" video from our own Brad Koesters, King of all SharePoint partnering.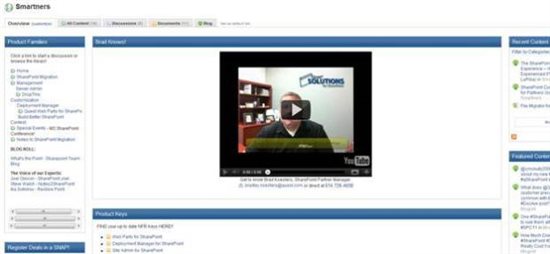 By the way, this image proves we have a Smartner page
If you are a SharePoint SI and would like to learn more about how engaging with Quest can expand your customer base and make you more valuable to your current customers, let us know. You can reach out to me or Brad directly and we'll get you started. And don't worry, we don't bite.