On Demand Migration for Email includes Large Attachment Management functionality to automatically migrate attachments (based on a configurable limit) to OneDrive for Business with a direct link included in the email for easy access. This was implemented to provide a method of migrating attachments to Office 365 that would otherwise be rejected due to size limits imposed by the target environment and eliminate the need to manually find & remove these attachments in the source prior to migration.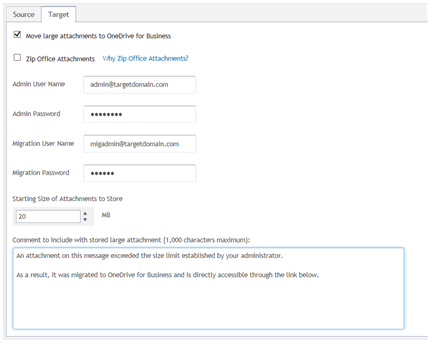 As you may have seen, Microsoft recently announced an increase to the Office 365 onboarding message size limit from 25MB to 150MB. This is a sizable increase and, since that announcement, I have received several inquiries asking if this eliminates the need to leverage the Large Attachment Management feature within On Demand Migration for Email.
Well, the short answer is "no".
As outlined in the Exchange Online Limits TechNet article:
"This limit applies to move based migrations using any supported Exchange Mailbox Replication Service. Other migration methods (Cutover, Staged, IMAP, PST) and other third party tools are limited by the general message size limit."
Therefore, the Large Attachment Management functionality within On Demand Migration for Email is still beneficial in streamlining migrations from a variety of sources to Office 365.
I hope that helps clear up some of the confusion regarding the recent Microsoft announcement and provides some additional insight into the value of automatically managing large attachments during your migration to Office 365.
Happy Migrating!