How about that 8-8-8 split among "labour," recreation and rest? Where do we sign up for that, especially when a database migration project is underway?
You'd certainly exceed the 8 hours of labor, so you'd have to dip into recreation. "Well, I like my work, so I guess an Oracle 12 upgrade is kind of recreation. Sort of . . ."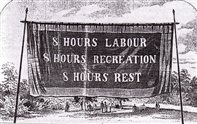 Photo Credit: Public domain, Eight Hour Day Banner, Melbourne, 1856 Licensed under CC BY 2.0
Not very convincing, is it?
Getting to normal business hours on a database migration
"Normal business hours" is quite a concept when it comes to migrations and upgrades. Wouldn't you like to work on your migration until 5:00 on Friday, walk to your office door, flip the sign to read, "Sorry we missed you – back on Monday at 8:30," then leave? Must be nice.
The thing is, that's what the other people in your organization are doing, because they know you're in the office diligently working on the project. They take their coat off the rack and head for the train station at 5:00, relying on you and your team to pull off your usual miracle. They know you'll have everything up and running in time for the next workday, when they'll come in and get back to business as usual.
So how many hours did your team put in to run backups, configure the intermediate server, export the deltas, reconcile them against the new production environment and test everything? How many hours was it, assuming everything went smoothly? And how many hours was it if something went wrong, as it often does?
How did you do on that 8-8-8 split?
Simplify your database migration projects – New e-book
To help you get back a little closer to 8 hours of labor and at least a few hours of recreation, we've put together a new e-book called Simplify Your Migrations and Upgrades.
Part 1 takes you through some of the basics on avoiding risk, downtime and long hours. You may find that the Oracle 12c upgrade project in your inbox goes more smoothly for some of the perspectives in the e-book, like insisting on test time in the schedule and building in failback to the primary system in case things go wrong.
Read the e-book for more ideas, and think about what it would take to get some of that 8-8-8 split into your (and your team's) life. You'll all be the better for it.