Can you audit the 5 Ws in your SharePoint? The Who, What, When, Where and Why of a SharePoint event?
Auditing is vital to any SharePoint governance plan. In fact it's one of our Five Pillars of SharePoint Governance – security, auditing, reliability, usability and supportability.
In this webcast we are going to take a deep dive into the auditing governance pillar and we have our friends at RCM Technologies to help as well as Quest's own Chris McNulty.
The Five Pillars of SharePoint Governance – Auditing (a webcast)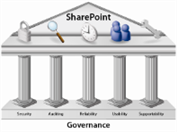 If your company is regulated, SharePoint auditing can cause nightmares for SharePoint administrators who don't have an effective governance plan in place. Because SharePoint stores loads of sensitive data, tracking the five Ws of an event (where, what, when, why and who) can seem next to impossible.
In this webcast, experts from RCM Technologies - a premier provider of business and technology solutions designed to enhance and maximize the operational performance of its customers – will join us to explore how to easily address your auditing requirements, such as adhering to standards, as well as tracking access, users, usage and storage. We'll also show you ways to establish proper controls for deploying and changing customizations. Furthermore, you'll discover solutions to dramatically simplify SharePoint auditing.