Hello again! As the Product Marketing Manager for vFoglight I am very excited to announce and give a preview of a few of the new capabilities and features available both now and in the upcoming vFoglight release. In fact, we just announced in a press release yesterday (https://www.quest.com/) at VMworld, vFoglight support for Hyper-V, extended automation capabilities and management into the virtualized application infrastructure. I will be delving into more of these capabilities in greater detail on subsequent blogs, but I wanted to spend some time giving a high-level preview.
First, new support for Hyper-V, we have been seeing a trend in heterogeneous hypervisor deployments in our customer base and in the market as a whole. Gartner predicts that the VM install base will increase 10 fold in the next 4 years, where Microsoft Hyper-V will capture 27% and the VMware share is projected to beat 65% by 2012 (SOURCE: Gartner Webinar, Nov 2009 http://www.gartner.com/it/content/1184500/1184548/november25_virtualization_tombittman_final.pdf). vFoglight is incorporating broad support for Hyper-V into its acclaimed and intuitive UI as well as into its extensive monitoring, reporting, capacity planning and chargeback facilities.
Second, "automation" - in Quest fashion, vFoglight will draw upon its expertise and ability to quickly detect, diagnose and resolve performance issues in the virtualization layer through automated remediation and workflows. vFoglight will cut through the time consuming, and sometimes error prone tasks by simplifying remediation and drawing from the vFoglight extensive built-in expertise.
Finally, deep visibility and in-context (virtual or physical) platform support into the Active Directory infrastructure and the Exchange application. This capability is not just virtual aware, but in-context virtual management designed to guide users to the problem area(s) specific to the underlying virtual and/or physical infrastructure - allowing you to confidently virtualize more in your Microsoft environment.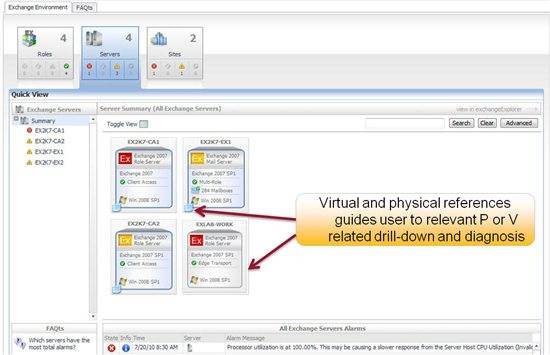 This is just a preview of a few of the new and upcoming features, in later blogs I will go more in-depth into these and others in vFoglight.
Again, I am very excited to announce these new market defining capabilities for virtualization management. I am also happy to do so officially as the Quest Server Virtualization Group -Simplicity at Work!
-Ben