Deployment Manager for SharePoint 1.0 is now generally available! This new solution helps automate change management and application deployment tasks in SharePoint 2007 and 2010.
With Deployment Manager for SharePoint you can:
Push lightweight SharePoint applications (data, SharePoint Designer workflows, web parts) from your development environment to test, staging and production farms
Roll out customizations (metadata, branding, templates) to multiple SharePoint sites
Take samples of live sites and content for testing purposes
Deployment Manager is an easy to install client tool that connects to SharePoint servers remotely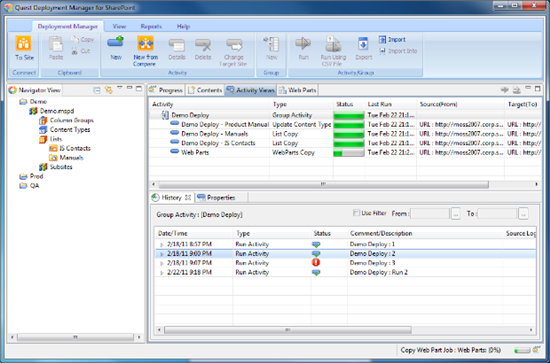 No agents or server-side components are required for Deployment Manager to function – all connections are made using the standard SharePoint web services. You can push changes to your internal servers or even to hosted SharePoint sites across the Internet.
You can easily delegate change management work due to the fact that access to sites and data in Deployment Manager is controlled by the SharePoint site permissions.
Here is a quick run-down on the key features:
Granular deployment of site items and settings across SharePoint servers
Side-by-side visual compare to identify differences and deploy changes incrementally
One-to-many deployments in a single click
Group and order deployment actions
Schedulable unattended deployments
Full audit trail of deployment activities
Want to learn more? Go to the Quest web site: https://www.quest.com/solutions/sharepoint/ to get detailed information about Deployment Manager for SharePoint, download your 30-day trial, and watch an on-demand demo.