3d year in a row, Quest One awarded SC Mag's 5 star rating:
http://www.scmagazineus.com/quest-one-identity-solution/review/3562/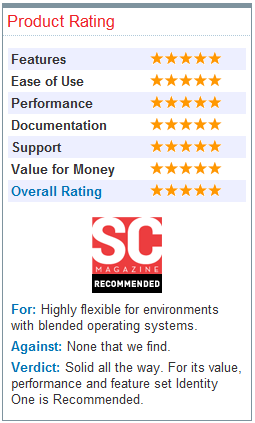 After testing our solution, reviewer, Peter Stephenson's final verdict was: "It is Solid all the way. For its value, performance and feature set Identity One is Recommended."
Couple of more quotes form the review: "Installation and configuration is easy and straightforward. … We find this [management] interface to be easy to navigate with an intuitive layout. This solution features a lot of powerful workflow functions that are well presented in an easy-to-use, drag-and-drop interface."