Notes Migrator for SharePoint 6.1 is an innovative product release that pushes the product further in three important areas: Design Migration, Content Migration and Pre-Migration Analysis.

Design Migration
Migrate Notes Views to SharePoint Views
Content Type Generation
New Column Provisioning Options
Provision Calculated columns
Provision Lookup Fields
Content Migration
New Run Job options
Migrate by Form Used
Improved Content Type Support in Migration Jobs
Dynamic link tracking for URL columns
Provision Alternate Libraries
Analysis / Migration Console
Capture Design Copies during Analysis
Classify by Last Used (All Replicas)
Import data into repository from CSV files
General
Performance and scalability for Migration Console
New User/Group Mapping options
Improved CBA/FBA support
Windows Authentication using alternate account for Link Tracking
Bulk Editing of certain database / class / job properties
Usability improvements
Not authorized to view the specified social group 1044 Sign in with your Quest Community ID, or register to create a new one. Then press the "Ask To Join This Group" button.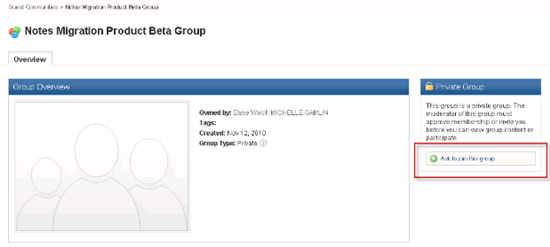 One of the site owners will review your request and will typically approve it the same day. You will receive a notification and then get full access to technical content and (of course) the beta build itself.
Note: Quest Support will not be able to help you with this version until it releases, so please use the Notes Migrator for SharePoint Discussion Forum for any questions, problems or suggestions.