Despite our best efforts, sometimes the best resolution to a help desk problem is to simply reformat and reload the operating system, which is hopefully Windows 7. But before you grab the setup DVD, what about all of the user's documents, pictures, favorites or program settings? How are you going to get them back in place so the user can get back to work? We've had a number of tools in the past, and if you use a folder redirection Group Policy that can also be a big help. Adding to the mix is a feature in Windows 7 that you may not be familiar with called Windows Easy Transfer.
Microsoft has offered some sort of user migration tool going back to the days of Windows XP. Windows Easy Transfer was first introduced with Windows Vista, but since Vista adoption never reached the levels Microsoft would have liked, you most likely never knew about it. The current version in Windows 7 makes transferring a user's local files and some application settings a breeze. If you need to transfer from a computer running Windows XP, you'll need to download an XP version of Windows Transfer. You should be able to download a copy from https://www.microsoft.com/en-us/download/details.aspx?displaylang=en&id=7349. Choose either the 32 or 64bit flavor.
Be aware that one limitation with Windows Easy Transfer is that you cannot transfer from a 64bit operating system to a 32 bit operating system. But I'm hoping that isn't too much of a hurdle. If anything, you are more likely to be moving from 32bit to 64bit in which case you shouldn't run into problems.
So what can you transfer? The utility is primarily to migrate a user's local files and some application settings. It will not move installed programs but depending on the application it can migrate application settings or preferences. You should be able to migrate local files and folders including music, pictures and video. You can migrate a user's Internet favorites and just about all of their profile which should cover most application settings. In fact, a Windows Easy Transfer perk is that you can end up with a nice backup package for the user which you can restore as many times as necessary.
The transfer process couldn't be any easier. On the source computer choose your transfer method, select the files to transfer and restore the files to the new (or rebuilt) computer. You have 3 choices. The correct option depends on a number of factors:
Are you transferring to a totally new machine?
If so, how proximate are the machines?
How much data do you need to transfer?
Are the computers on the same subnet or across a WAN?
What is your network performance?
These are just a few questions you might need to answer. You can transfer files using an Easy Transfer cable. This is a special USB cable designed to connect the old and new computers which means the computers need to be physically proximate. This is probably a great option when migrating files between laptops. You should be able to find a cable online or at most office supply stores.
Another option is to use the network. This option assumes the new computer is already up and running on the network. When you run through transfer process on the old computer and select the Network option, the utility will generate a transfer key, as shown in Figure 1.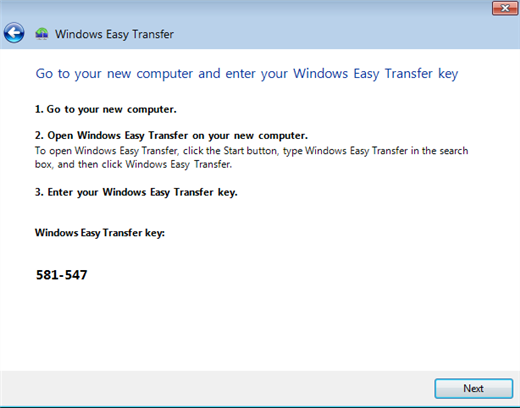 Figure 1 - Network Easy Transfer Key
On the new computer when you start the transfer process, you'll enter this key. The two computers then establish a peer to peer connection and the files are transferred.
The last option, and the one that I use most of the time is to use an external hard disk or USB flash drive. The transfer process creates a single file. When you go to restore all you need to do is ensure the external drive is attached. I have also found that you can use a network share for this process as well. Very handy when you don't want to spend time rooting around for an extra external hard drive or large enough USB stick. Now that we know the options, let's see this in action.
On Windows 7, Windows Easy Transfer is buried under Start – All Programs – Accessories – System Tools. I find it much easier to simply start typing "Easy Transfer" in the Windows 7 Search box and then click Easy Transfer. There is one requirement for running the program and that is you must have local administrator privileges. I recommend logging on with an account other than the one you want to migrate anyway to avoid open files or applications. Logon with an account that has administrative privileges and launch Windows Easy Transfer. You should get a welcome screen like Figure 2.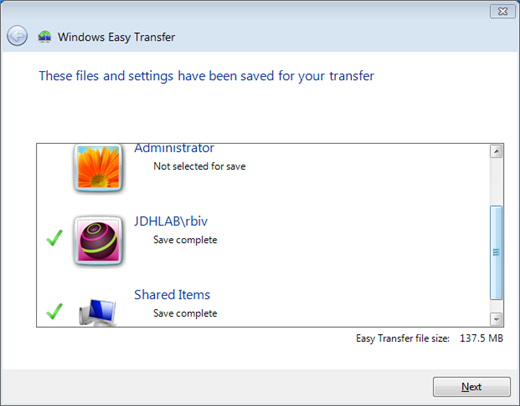 Figure 2 - Windows Easy Transfer Welcome
I have a user, Roy G. Biv, who has been experiencing problems and I've decided the best course of action is to reload his computer. So before I reload I need to save his documents and settings so that I can get him back up and running in the least amount of time. Figure 3 depicts Roy's desktop and documents.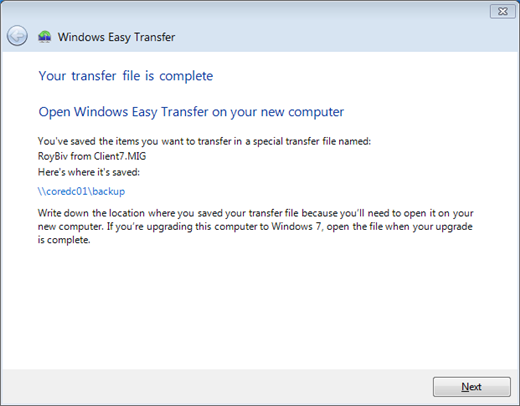 Figure 3 - Roy G Biv's Desktop and Files
I should point out that if any of the files or settings to be migrated are compromised by viruses, spyware or other malware, the new computer will likewise be compromised. Although this might actually be useful as you could restore files to a test computer for more in-depth scanning and analysis. In my situation I'm going to assume Roy's files are clean.
To begin I'll logon to Roy's computer with my domain administrator account and start Windows Easy Transfer. On the Welcome screen I'll click next and select the backup method as shown in Figure 4.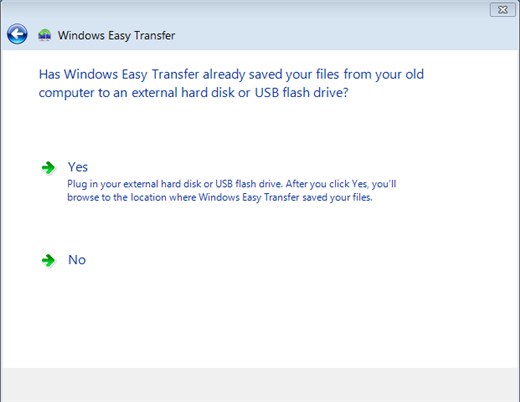 Figure 4 - Easy Transfer Backup Method
Because I'm reloading the machine the cable and network options aren't options so I'll click on the external drive choice. The utility will eventually calculate how much space you will need but I find it handy to come up with a ball park figure ahead of time or at least make sure your external hard drive has more than enough free space.
As the option suggests you can either use an external disk drive or even a USB thumb drive. But don't let "external disk" throw you. If your computer has a second physical disk, or even a volume that will remain untouched during a reload, you can select that as your destination.
After you select the backup methodology you will be prompted to identify the computer as seen in Figure 5.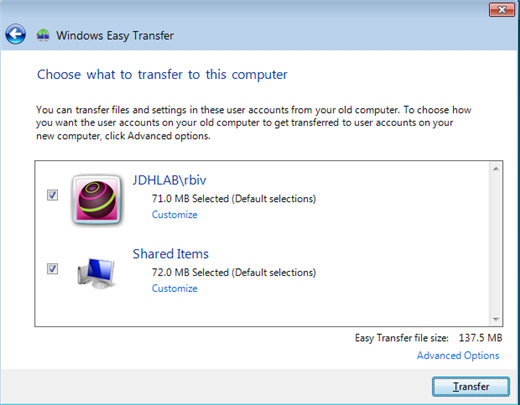 Figure 5 - Select the Computer
Since I'm just starting, I'll naturally identify this as the old computer. As soon as I click the entry, the transfer tool begins scanning all local profiles as well as shared folder locations for files to be transferred. Depending on the number of profiles and documents, this may take several minutes.
When finished, the utility will automatically check all files. I'm only concerned with Roy's files so I'll uncheck all the other options as show in Figure 6.
You can further filter what files are copied by clicking on Customize which gives you more options as depicted in Figure 7.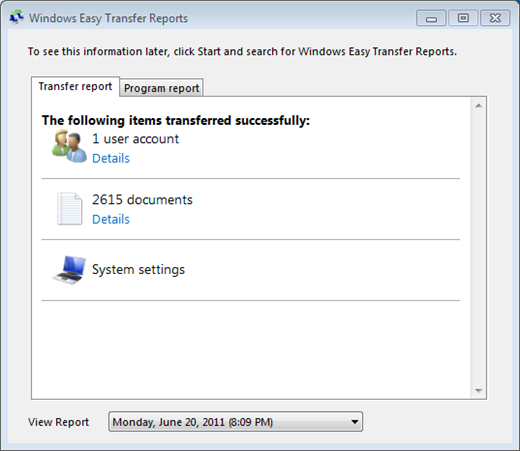 Figure 7 - Customize File Selection
I'm going to uncheck Music and Videos. You can customize even further, including selecting files and folders outside of the user's standard profile by clicking on Advanced. I'm going to include the C:\Scripts folder as well and uncheck a few other items. Figure 8 shows my final selections.
Click Save. Since I elected to save files outside of the user's profile, the Shared Items setting is now checked.
Next I have the option of password protecting the backup file in Figure 9.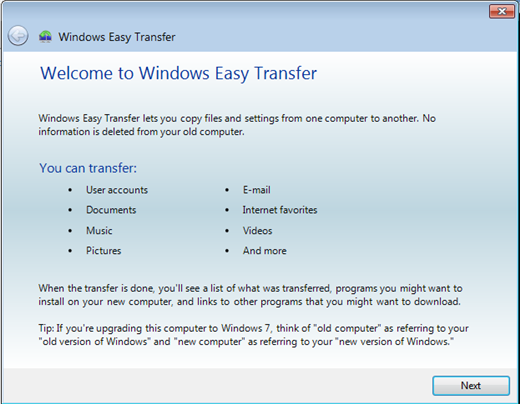 Figure 9 - Password Protect the Transfer
The utility will create a single archive file. If you will be saving these transfers as a secondary backup, I encourage you to set a password. Just don't forget it or lose it. For my demonstration I'm going to continue without one.
The last thing I need to do is select the backup location and file name. Be sure to keep the .MIG file extension. As soon as I hit enter the copy process begins. Of course, if you selected another backup method such as using a transfer cable or network connection, the program will tell you what to do on the target machine. The instructions are very simple and should be easy to follow.
Naturally, if you are copying 10GB of data over your network, make sure it can handle it. Personally, that's why I like the external drive approach. Granted, in my scenario I'm backing up to a network share but I also know I'm not moving a lot of data.
Easy Transfer will tell you when the files have been saved as you see in Figure 10.
Clicking Next takes me to the summary screen captured in Figure 11.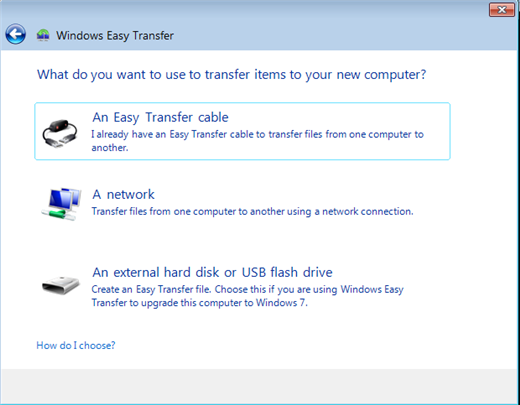 Figure 11 - File Capture Complete
At this point, I can rebuild and reload the computer with a clean copy of Windows 7, along with installing any necessary applications.
To begin the restore process, the first step is for Roy to logon and create a new local profile. He won't have any of his files and settings, but the restore needs a local profile "map" to. Roy can logoff and I can logon as the Administrator again, launching Windows Easy Transfer again. If you are using an external USB drive, make sure it is attached and working before you attempt the restore.
After you launch the program, step through the same options as before. But now I'll select that this is the target or new computer. At this point, the program asks me to verify the file is available as in Figure 12.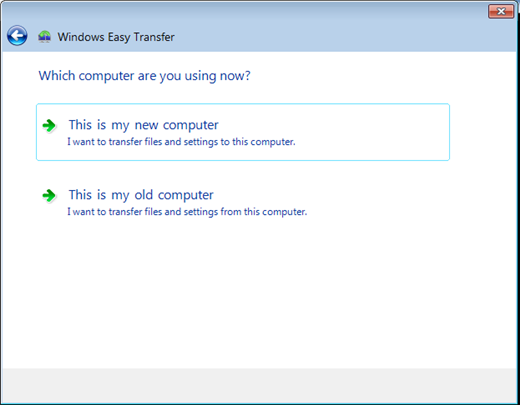 Figure 12 - Verify File Source
Now I can browse to my backup location and select Roy's file. The utility will open it and show me what can be restored. I can also quickly get to this point in the process by simply browsing to the file in Windows Explorer. When I double click the file, the transfer program will open and load the file. Now I have the options as shown in Figure 13.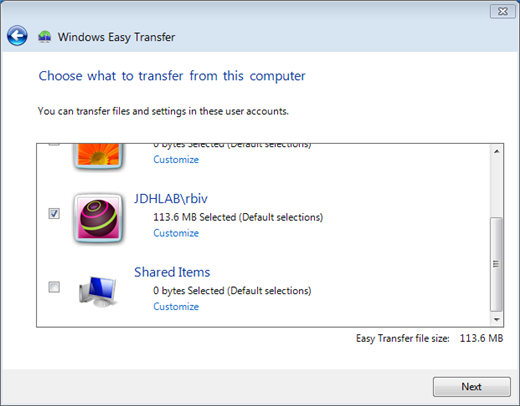 Figure 13 - Select What to Transfer
As before I can customize what files to restore. I can also click on the Advanced Options link to map to a different profile or to a different drive. This comes in handy if the new computer has a different drive configuration for user documents. But I'm good with the current settings so all I need to do is click Transfer to begin restoring files. Again, this may take several minutes. Figure 14 illustrates a successful transfer.
I can view the transfer report as shown in Figure 15.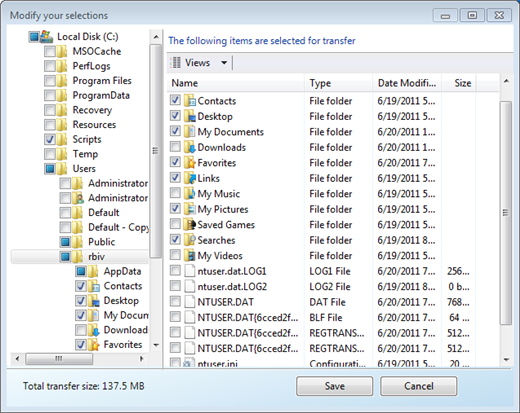 Figure 15 - View Transfer Report
Or I can click on Program Report which will show me what programs are already installed that were installed on the old computer as well as any programs I might still need to reinstall. When I'm finished reviewing I can click Close and the program exits.
At this point all that is left is for me to log off and Roy to log on. His color scheme has been restored, along with desktop icons. Figure 16 shows his files, including C:\Scripts have also been restored. All of Roy's favorites are also back. You can view the transfer report at any time, by searching for "easy transfer report" or selecting the shortcut in the Accessories folder. Unfortunately this also requires admin rights. Although one thing you can do is when you view details on the documents that were restored, you have an option to save a report which will create a CSV file.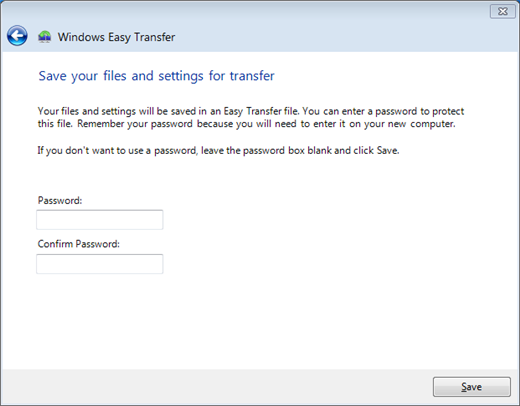 Figure 16 - Verifying Restored Files
Windows Easy Transfer lives up to its name, but is not without limitations. It requires administrator credentials and manual intervention. The tool does not have a scripting interface or option. If you are looking for something more enterprise level or that you can automate, then you should be looking at the latest version of the User State Migration Tool or 3rd party utilities. But for smaller shops, this may be just the tool you need to save the day and make you look like a hero.