I recently came across a great tool created for troubleshooting APPV applications created by TMurgent Technologies. Tim Mangan it's founder was a key member of the Softricity team which Microsoft purchased and later renamed to APPV.
His company create a set of really useful tools to help troubleshoot APPV applications. The tools can be downloaded from: http://www.tmurgent.com/appv/en/
I used APPV_Manage tool recently to troubleshoot an APPV 5.0 application. (You can download it from here http://www.tmurgent.com/Tools/AppV_Manage/Default.aspx)
It allows you to for example launch a command prompt, regedit, procmon, explorer etc. within the virtual environment without the need to write scripts to launch these items for you.
I followed the following process to troubleshoot my AppV 5.0 application on a local VM:
Install the APPV Client
Install the APPV_Manage Tool
Open Powershell as Admin
Enable APPV scripting in Powerhell, follow these steps:
set-executionpolicy unrestricted
Import-Module AppvClient
Set-AppvClientConfiguration -EnablePackageScripts $true

5. Open the APPV_Manage Tool go to the "Tool Config" tab and add the location of where your APPV Packages are stored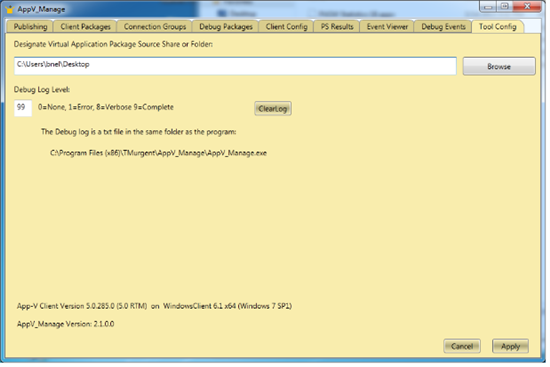 6. On the Publishing tab select the package that needs to be investigated, then click on "add pkg" button at the bottom of the screen. Once the publish buttons become active click on the appropriate publish button "Publish to Me" work fine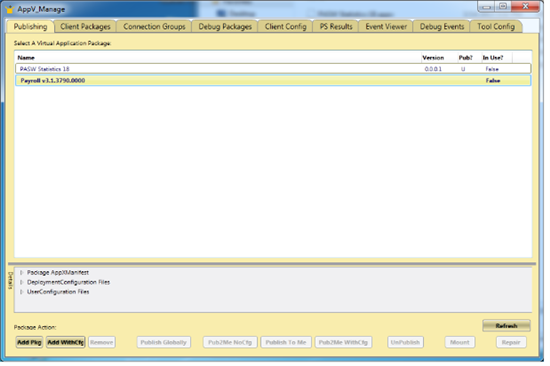 7. Now that the prep work is done all the information in the other tabs become available. :-).
From the Debug Tab you could launch a number of troubleshooting tools: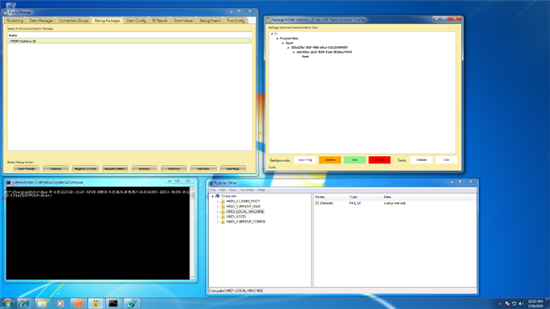 More details on all the tasks available can be found here: http://www.tmurgent.com/Tools/AppV_Manage/Default.aspx