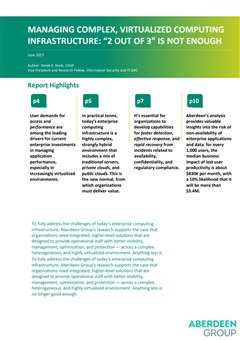 Debating whether your organization should invest in better database application management tools? Having trouble getting buy-in from your colleagues?
The Aberdeen Group – a leading marketing and research organization – recently released an illuminating study that explores why organizations are improving their data center infrastructure, as well as the benefits of doing so and the real-world implications of relying on basic data center management tools.
What's driving data center investments?
Aberdeen found that organizations are spending money on data center improvements primarily because of the need to achieve:
Higher availability and performance
Users are now spoiled. Their experiences as consumers have elevated their expectations for the workplace. In short, they demand the same lightning speed and easy access whether they're buying a product from Amazon or using a company database (even remotely). That's difficult for IT departments to provide, especially when dealing with obstacles such as poor visibility, complex systems and inadequate tools for resolving issues.
Of course, poor availability also hurts user productivity –and a company's profits. You'll be amazed at the estimated monthly cost to businesses when users can't access organizational data and applications (see the report for cost details).
Greater flexibility and efficiency
Did you know about 70% of today's application workloads are virtualized? This evolution has created many advantages for businesses. But, it's also made it much tougher for IT departments to monitor, manage, optimize and protect their databases.
Additionally, many companies only half-heartedly embrace the cloud; they don't trust public clouds for their most important applications and data. As a result, organizations frequently have a complicated hybrid mix of traditional servers, private clouds and public clouds. This places additional stress on IT departments, and deepens the need for better IT flexibility and efficiency.
Stronger security, privacy and compliance
Cyber attackers are unleashing more sophisticated, successful attacks on businesses. And when a breach occurs, organizations often respond slowly – mainly because they don't even know about the incident. Aberdeen's research reveals that roughly 50% of successful attacks take longer than six weeks for an organization to detect. By that time, the damage can be significant.
Since even the most robust security systems can't stop every attack, it's imperative for businesses to have the capacity to quickly respond to and recover from a breach.
A shift to better tools
According to Aberdeen, the days when organizations could get by with simple, limited data center management tools are over.
The report states that "organizations need integrated, higher-level solutions that are designed to provide operational staff with better visibility, management, optimization and protection – across a complex, heterogeneous and highly virtualized environment. Anything less is no longer good enough."
Aberdeen discovered that businesses who've adopted this proactive approach experienced an array of benefits, including:
Quicker problem detection
Faster issue resolution
Lower error rates
Greater availability
Better overall performance, efficiency, cost savings and security
Get the full story
The complete study contains many more factual insights about the challenges of managing today's complex database infrastructures, and further substantiates the value of investing in your database equipment. If you manage databases – or are considering upgrading your tools – it's a must-read.