Many employee's conduct business by accessing productivity tools and critical applications such VoIP, email, and video conferencing using a network connection. When that network under performs or becomes unresponsive, it does not take long for management to recognize employee productivity has decreased. Thus, network service and its performance are vital for most any business.
A common but avoidable disruption to a production network is a backup process. Most backup processes are extremely intensive as network utilizations commonly sore beyond 95% resulting with poor network and application performance or even unresponsiveness. Because of this, most backup jobs must be scheduled when employee productivity is less impacted such as weekend and/or evening time frames. In today's global 24x7 businesses, scheduling a multiple hour backup window without impacting employees is difficult if not impossible to do.
While a 48-hour weekend timeframe remains constant, data growth rates are continually increasing pressuring backup administrators to implement better backup strategies and adopt improved technologies. One popular backup improvement approach is the implementation of LAN-Free backups which removes backup traffic from the production network and places it on a different network often called a storage area network (SAN).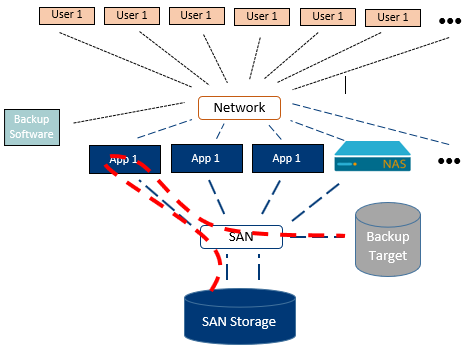 Figure 1: LAN-Free backup
Figure-1 above illustrates LAN-Free backup (of server called App 1) traffic running on a SAN rather than the production network. When backup data is offloaded from production networks, employee productivity is less likely to be impacted due to slow or spotty network performance. Furthermore, backup administrators have relaxed scheduling restrictions for their backup needs.
LAN-Free backups have history improving both backup performance and minimizing user impacts. Early LAN-Free backup implementations would send backup data to a media server, then to tape libraries, auto-loaders or just plain drives. Over time, new technologies have evolved such as disk based purpose built backup appliances (PBBAs). These popular appliances incorporate deduplication, compression, and other powerful backup technologies that further improve backup experience and reduce costs. Additional efficiencies can be implemented, if NDMP is used to protect NAS servers, backups can flow directly to the backup target, bypassing the media server.
PBBA's can be implemented as LAN-free backup targets a couple ways – by replacing older SAN attached tape devices or by complementing and work alongside them. Examples of disk based PBBA's are Quest DR Series, Dell EMC Data Domain, HP StoreOnce appliances which offer deduplication, compression, replication and other powerful backup technologies.
FC & iSCSI SANs
LAN-free backups utilize a different network called a SAN. SAN implementations typically fall into two types: FC or iSCSI. Since FC based SAN networks have been deployed since the mid-1990's, most PBBAs offer native FC SAN connectivity making them FC-Ready to deploy. Even though the cost of FC SANs has diminished considerably over time, FC SAN and management cost can require enhanced investments for some computing environments.
On the other hand, iSCSI SAN implementation is affordable for most because one can leverage existing Ethernet investments and expertise ('investment protection'). iSCSI is mature, well established and supported by all major storage vendors, operating systems and hypervisors making it a popular choice for many smaller and mid-sized IT environments who may lack bountiful budgets.
VTLs
Since many PBBAs often replace older SAN based tape devices, PBBAs can create virtual tape libraries (VTLs) to mimic the tape devices they replaced. VTLs have many benefits, if a backup administrator is comfortable with a tape library storage management style, there will be little to no difference when using VTLs.
PBBA Differentiator
When examining market leading PBBAs offerings, most lack iSCSI VTL support which limits most any iSCSI environments to implement LAN-free backups with them.
But there is an exception - Quest DR Series appliances natively support both FC and iSCSI environments making it one of the most flexible PBBA's on the market. Quest DR Series DR4300 and DR6300 appliances natively offer both FC and iSCSI SAN support using a VTL interface while the DR4300e appliance supports iSCSI only using a VTL interface.
The Quest DR Series appliances benefit most backup environments, those who are considering iSCSI and or FC LAN-Free backups, and those who already have them.
For those environments that consist of both iSCSI & FC SANs the DR Series appliances flexibility comes into fruition with its support for both FC and/or iSCSI SAN technologies at the same time through one management interface/appliance.
Summary
A backup is a network resource intensive process that can negatively impact employee business needs, thus it is challenging for backup administrators to protect ever growing data capacities without impacting production. New technologies and backup methods must be examined to achieve successful backups for the future.
One proven and successful backup approach is the implementation of LAN-Free backups to disk based PBBA's. When compared to other leading PBBA's, Quest DR Series appliances stand out because of its ability to simultaneously support both iSCSI and FC SAN technologies, while the other leading PBBA's on the market today are limited to FC support.
Additional Resources
DR Series Appliances Datasheet
DR Series Appliance LAN-Free Step-by-Step Configuration with CommVault