NetApp SnapMirror Block Level Incremental Backup to Tape with NetVault Backup
Big data and stringent RTO and RPO requirements have driven the growth of hardware based snapshots as a data protection methodology. In the case of NetApp, the SnapMirror feature is often deployed to achieve these objectives. SnapMirror, is a data replication offering from NetApp that, mirrors mission-critical data from a primary site to a remote, secondary site using standard IP networks. In the event of a site-wide disaster SnapMirror delivers fast access to the most current copies of your data.
The Quest NetVault Backup Plug-in for SnapMirror-to-Tape (SM2T) is the first commercially available solution to provide block-level backups for the data stored on NetApp Filers. Working in conjunction with NetApp's SnapMirror technology, the plug-in allows you to back up selected volumes or snapshots to tape devices for off-site storage. An intuitive, easy-to-use interface provides a single, centralized console to configure backup and restore policies for all your NetApp filers.
New Block Level Incremental and Differential Backup Support
The SnapMirror feature has worked at the volume level since its introduction over a decade ago. With big data, moving the contents of an entire volume to tape with each operation is an issue. To address this need, NetApp added block level incremental (BLI) backup functionality to its Data OnTap 8.1.1 operating system, and Quest is the first data protection vendor to support this function in its NetVault Backup Plug-in for SnapMirror-to-Tape.
The block level incremental backup process starts with a full backup -- all subsequent backups are only the blocks that have changed since the first full backup so the amount of data being sent to the backup target will be dramatically reduced. A snapshot is taken at the start of each backup to provide for versioning on the filer and the NetVault plug-in gives users the choice of retaining all versions of a snapshot of just the full and latest snapshot versions if filer space reclamation is desired.
Testing has shown that the client-side impact of doing this type of backup is minimal and fairly quick, often taking only a few minutes to transmit the changed blocks of data. Client impact is minimized since only changed blocks need to be identified; no comparison process on the backup target is needed. Low client impact and reduced offsite storage means that multiple backups throughout the day are not out of the question.
To enable this new capability your systems must meet the following minimum requirements:
NetApp filers must be running Data OnTap Version 8.1.1 or greater
NetVault Backup 8.6.1 or later with the following plug-ins

NetVault Backup Plug-in for SnapMirror-to-Tape 7.6.107 or later
NetVault Backup Plug-in for NDMP 7.6.7 or later. (Note: if using NDMP Plug-in 7.6.7 you will also need to install ONTAP 8.1.1 7-Mode Support Pack. The patch will not be required with NDMP versions later than 7.6.7. For patch details refer to Knowledge Base article- SOL95338 on the Quest Support Portal.)
After upgrading your NetApp filers and NetVault Backup to meet the support requirements mentioned above you will be able to begin using the block level incremental backup features to augment your data protection strategy and reduce your storage requirements on both your NetApp filers and on tape.
Performing Block Level Incremental Backups
The block level backup functions introduce a new method for creating backups in the NetVault Backup user interface. When you open the NetVault Backup SnapMirror to Tape Plug-in interface, you will note some new backup options, see figure 1 below, to use the prior form of SnapMirror functionality select the 'Standard' backup method in the dialog box and you will be performing SnapMirror-to-Tape backups of full volumes or snapshots as previously supported by NetApp and NetVault Backup.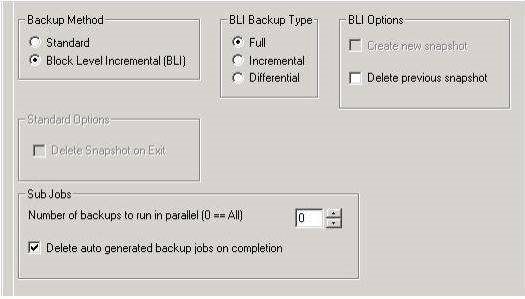 Figure 1- SnapMirror-to-Tape Plug-in Backup Options Tab
The new BLI backup method supports the following backup types:
Full – A Full Backup transfers the entire volume. It serves as the base for the subsequent Incremental and differential backups. You must select a BLI-based Full backup as your baseline. Full backups created using the 'Standard' backup option are not supported for subsequent BLI based backups.
Incremental – An Incremental backup transfers the changes in a volume since the last Full, Differential, or Incremental backup. Incremental backups consume minimum storage space and are quicker to perform
Differential – A Differential backup transfers the changes in a volume since the last Full backup. Differential backups speed up recovery since the plug-in is only required to restore two savesets, the Full and the latest Differential backup.
After the initial Full backup has been performed you can use either the Incremental backup option or the Differential backup option for future backups until you are ready to start the cycle over again with a new full. Just remember that running too many incremental iterations between Full's will complicate and lengthen your recovery time as each Incremental backup will need to be restored, in order, to bring the data set back to its most recent recovery point.
Two other BLI Options were added to this tab in support of additional capabilities:
Create New Snapshot – Use this checkbox to create a new snapshot for the backup. This parameter is only applicable to Incremental and Differential backups. The filer automatically generates a snapshot for a Full Backup. Therefore, the 'Create New Snapshot' check box remains grayed-out for a Full backup.
Delete Previous Snapshot – When you select this check box, the plug-in will retain the snapshot for the current backup instance and the base Full backup. It will delete all other snapshots created for prior Incremental and Differential backups.
For complete details on using the new Block Level Incremental Backup functionality in the NetVault Backup, please refer to the Plug-in for SnapMIrror-to-Tape Users Guide that can be downloaded from the Quest Support Portal at the following URL-