I'm excited to announce that NetVault Backup 12.1 is now available, along with a new plug-in for Office 365 and other updated NetVault Backup plug-ins as described below.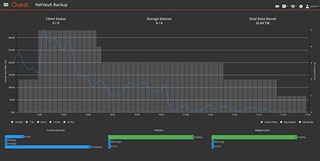 KEY NEW FEATURES
NetVault Backup (Core):

NetVault is now enabled for Managed Service Providers (MSP) with a new multi-tenant architecture
Single sign-on capability expanded to Linux and Unix environments via LDAP support
Foglight for Virtualization 8.8 integration. Monitor multiple NetVault servers through a single console
Application aware SAN snapshot enhancements
User experience, policy management and catalog search enhancements.

Microsoft Office 365 Plug-in (BRAND NEW!):

Full and incremental backup and recovery of Office365 Exchange Online Mailbox
Optimized for backup performance with multi-threading and multi-streaming architecture
Flexible restore options
Built using Microsoft Graph API to facilitate future growth.

VMware Plug-in:

Updated VMware vSphere 6.7 support
New capability to select VM's for backup using include and exclude patterns.

SharePoint Plug-in

SPFarm Backup Method support. Enables the backup for the entire farm or individual Site Collections
Microsoft Windows Pure64 support for SharePoint 2010
Support for SharePoint 2016 running SQL Server 2017 Database Server
Automated deletion of temporary backups. After a successful backup, backups in the temporary directory are deleted.
Now you can simplify your enterprise backup and recovery operations and expand system and application protection - with NetVault Backup.