One of the core tenants for a robust backup and recovery infrastructure is replication of data. If you have a major disaster, properly replicated backups will save the day and potentially your company. In this blog, I will detail how you set up replication and apply a disparate retention policy to the replication target using Rapid Recovery from Quest.
First, let's chat about replicated data retention. For many customers the ideal set up is to have short-term to mid-term, more granular backups available at their primary site with a longer retention at the DR or replication location. The reasons for this are as follows.
Disk is not inexpensive so better optimization of limited resources is wise
You can tune your primary site to let's say keep hourly backups of critical servers for 5 days but on the replication site keep less frequent backups (weekly's) for 1 year vs. 3 months on your primary site.
Depending on the change rate of your data and your WAN bandwidth, you may not have the ability to replicate every single snapshot of every single VM or physical server to your DR site.
You may be bound to compliance that requires you to keep 7 years' worth of data somewhere. A disaster recovery site of perfect for this. (cloud, co-located site, or hosted via another company)
I've selected DPVM1 in the core console, then I will select Replicate.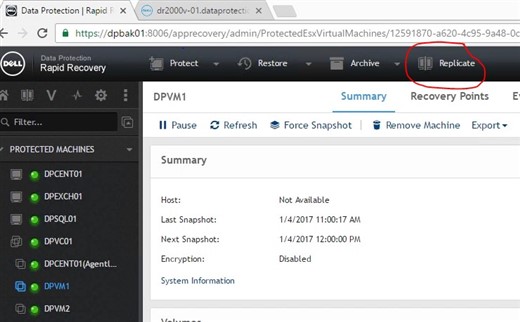 2. Now I'll select my target core for replication. This is where you would decide if you are using a cloud target, are setting up a new core for replication or in this case have an existing target set up.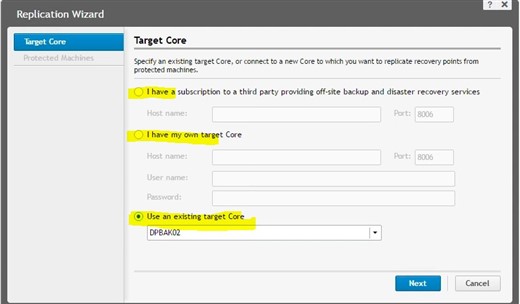 3. I select my VM that I want to replicate and click finish. If you are replicating a large amount of data, you can copy the data to a seed drive (network share, cloud target, USB, etc). Also if you want to start the initial seed overnight, you can pause the replication and start it at a time where more WAN resources are available.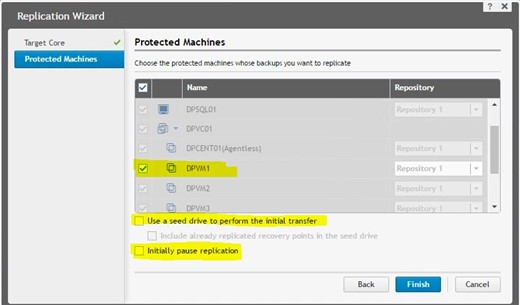 You will then get this message.

4. Move over to your replication target core, select the VM that is now being replicated and click retention policy.

5. Click "set custom retention policy" and this where I will adjust my settings for a less granular retention in the short term but a much longer retention for archival purposes.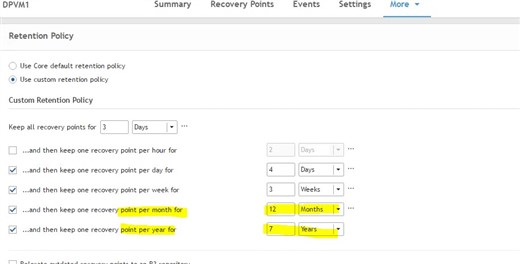 6. Click apply and your done !

Now I have my replication target keeping monthly's for 12 months instead of 3 months at my primary location and also have added a yearly retention snapshot which I will keep for 7 years. I have also completely removed the retention of the hourly snapshots as I am keeping them on my primary core. If you would like to learn more about Rapid Recovery and how it may be able to help your company protect it's data visit https://www.quest.com/products/rapid-recovery/
Steve Weaver is a field based Backup and Recovery Systems Consultant for Quest based out of Toronto, Canada.