It seems like a lifetime ago when virtualization was introduced as a new technology that allowed for a streamlining of a data center, to alleviate an IT department of huge physical server farms and the costs that also go along with that care.
With virtualization there were also a few questions that I could remember being asked in regards to data backup and protection.
How do I backup my virtual machines?
What software product do I use to backup my virtual machines?
How can I backup my virtual machines while still powered on?
How do I react if my primary servers go down?
Do I have a solid business continuity plan?
I really feel that these questions are just as relevant today as they were then. And since the onset of virtualization many different software products have been introduced in order to accomplish or try to answer those questions. Over the years some have separated themselves as most preferred to implement.
I'm going to be specific and concentrate on Quest's data protection offerings because I truly feel that the feature sets of both Quest's vRanger and Rapid Recovery best fulfill the above questions my customer's ask regarding the backup architecture they are trying to accomplish.
First, Quest's vRanger backup and replication - this was the first commercial virtual machine backup product I ever used. This product has the ability to protect your ESX or Hyper-V platforms as well as your physical Windows environment in minutes. I have customers with 5000 VMs as well as those with 10. Cataloging and indexing allow for quick access to files for restore; the ability to deploy virtual appliances to assist with workloads across your virtual hosts or cluster – the flexibility to spread your data across multiple repositories, replication – all this for a cost that is highly attractive for admins.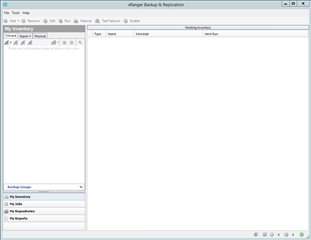 Rapid Recovery is quickly adapting to the virtual admins wishes as well. In this portion I want to concentrate on the virtual standby attribute. So, what happens if you need to have a critical server running, but it crashes and you don't have a spare physical server ready to go? Simple: In Rapid Recovery – we can export the desired recovery point to a virtual machine (VM). RR supports both VMware ESXi/vCenter and Microsoft Hyper-V. In practice, this process is similar to a BMR or even a data volume restore. The hypervisor creates the VM, Rapid Recovery restores the system volume and any data volumes that may be needed, and then the process is finished by modifying the newly created virtual system drive to allow the VM to boot.
The next step? Virtual standby….What is it? – every data center has critical protected servers, we can select those and have them exported in such a way that, if they fail, a VM is prepared to replace them. That is a virtual standby. The methodology is a new export is performed after each backup. If the newest backup snapshot was an incremental, meaning only data that differs from the previous backup was transferred over the wire, and this new backup is merged with the virtual standby, the virtual standby is in sync with the newest backup.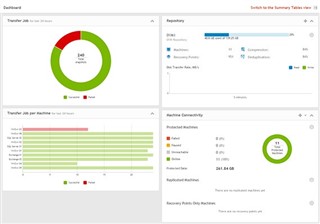 It goes without saying that this is concept is very attractive to a backup admin. If paired with the fact that virtual standby machines can be spun up at the disaster recovery site (as long as the data is replicated), in case of primary data center failure, it's possible to recreate the whole local area network at the DR site (or even in the cloud) and have users work remotely with minimal interruptions. When I present this solution to customers virtual standbys are a major point I amplify— I say it based on personal experience — from a backup perspective, critical machines are the ones that contain valuable data. From a virtual standby perspective, the critical machines are those that assure the network infrastructure.