Virtualized and hyper-converged environments allow IT data centers to rapidly adapt to ever changing business demands. Because of this, customers have increasing expectations from their backup and recovery solutions such as the protection and recovery of data in minutes, improved backup integrity, expanded retention policies and data analytics. Additionally, IT data centers are asked to retain data for longer periods of time. To meet both of these demands, new backup and restoration approaches and technology are required. Deduplication appliances are increasingly being utilized to support modern backup and recovery solutions as they are disk based random access devices that support fast backup and recoveries, efficient replication and more importantly deduplication. Many deduplication devices are purpose built and implement deduplication algorithms that are specific to backup and recovery workloads.
Because purpose build deduplication devices use hard drives, advanced deduplication algorithms can be implemented to created significant storage savings above and beyond compression. Deduplication appliances are fast, cost effective, and complement most any backup environment non-disruptively resulting with immediate backup and recovery improvements. Additionally, deduplication appliances offer improved interoperability with backup software when compared to other backup targets such as cheap-and-deep disk or tape.
Quest DR Series is a family of purpose built backup deduplication appliances which include DR Rapid – a suite of acceleration & management protocols that consists of Rapid Data Access (RDA), Open Storage Technology (OST) and Rapid CIFS and Rapid NFS. RDA and OST are propitiatory acceleration protocols that are tied to specific backup software products. Rapid CIFS and Rapid NFS are designed to work with most any backup software solution that writes to backup targets using CIFS or NFS protocols. The beauty of this patented technology is that an administrator continues to use CIFS and NFS normally, without any intervention or extra management as Rapid RDA turbo charges your existing CIFS and NFS backup connections.
Veeam Backup & Replication is a popular backup and recovery solution that is used to protect virtual and hyper-converged infrastructures. When pairing Veeam Backup & Replication with DR Series appliances as a backup target, the use of DR Rapid can significantly reduce Veeam backup windows. The DR Rapid driver ensures that only unique data is sent over the network as the deduplication hashing/chunking are done at the media or client server location. Performance improvements may vary depending on what Veeam backup method is used. Let's take a closer look.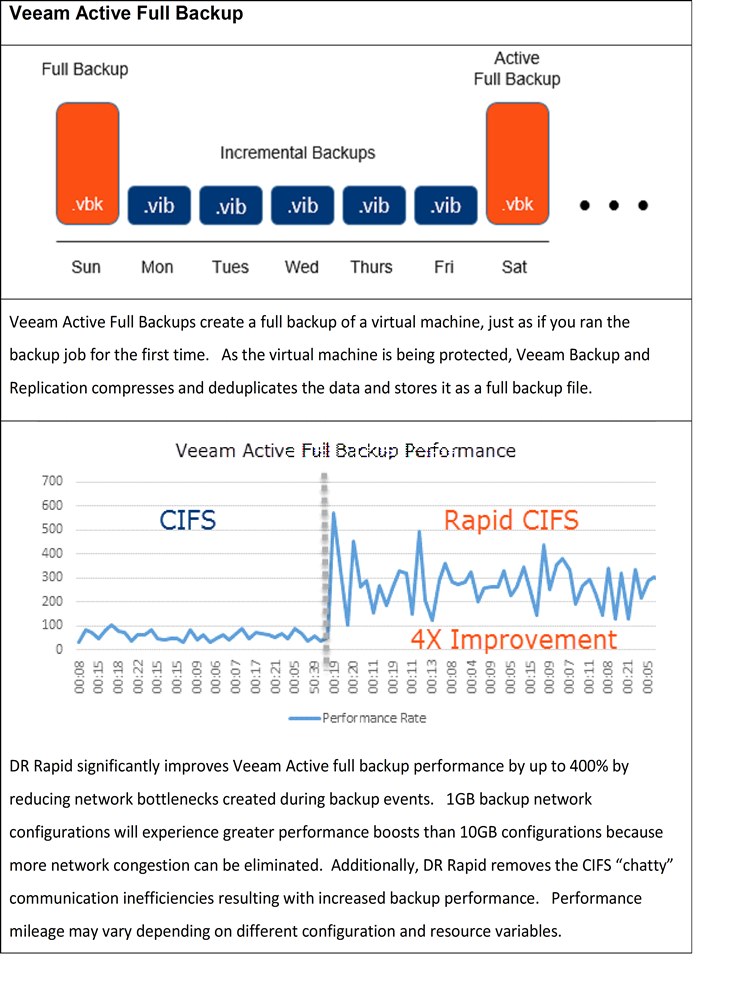 Rapid CIFS enhances the abilities of CIFS to transfer data. Authentication, ACLS, creation of connections, management, etc., and all of the CIFS management, functionality and operations are the same. Enabling Veeam Backup & Recovery to use Rapid CIFS is simple, just download the Rapid CIFS driver and install it on the Veeam proxy servers (the Veeam server might be a proxy server itself) followed by creating a Veeam repository to a CIFS based DR container. There is no need to reconfigure previous Veeam backup jobs before or after the use of Rapid CIFS, keep running the configured Veeam backup jobs but now pointing to the new DR container. For step by step recommended instructions to configure DR appliances and Veeam Backup & Replication, select the following link.
The latest version of the DR Series appliance operating system v.4.0.0.3 has been qualified to support Veeam backups as described in the blog. Quest recommends that all DR series appliances, which include the DR series virtual appliances to be updated to this version.
For those interested to improve the backup performance of an existing Veeam solution, download a fully enabled 30-day evaluation DR Series virtual appliance to garner how DR Rapid can improve backup performance in your Veeam environment.