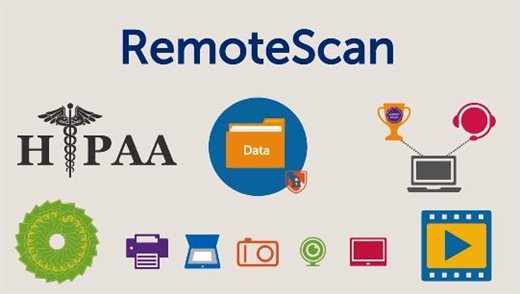 It's easy now with the latest release of Quest® RemoteScan®. Effective May 15, 2018, RemoteScan Enterprise now supports Fujitsu ScanSnap scanners, along with its traditional support of TWAIN- and WIA-compliant scanners.
Why is this significant? ScanSnap scanners have a devout following of users — and for good reason. Fujitsu ScanSnap scanners simplify scanning with the push of one button, while ensuring consistent, exceptional quality of the resulting scanned images. Scans can be routed to cloud-based applications, such as Google Drive, Salesforce Chatter, Evernote, Acrobat Reader or other custom-configured cloud applications. This streamlined user experience requires very little configuration.
To make their ScanSnap magic happen, Fujitsu provides a proprietary driver rather than the standard TWAIN or WIA drivers commonly found with most scanners, including with Fujitsu's fi series of scanners. This was by design to ensure that Fujitsu's prosumer scanners (the ScanSnap series) were as easy to use as possible for customers who may not be technically oriented.
There's just one challenge with the proprietary driver: It won't work with scanning via a TWAIN scanning business application, and by extension, it won't work when a scan is initiated from a TWAIN-based scanning application hosted on a server. When organizations with ScanSnap scanners move their business applications to a virtual desktop environment, such as Citrix, VMware Horizon View, Terminal Server/Remote Desktop or Microsoft Azure, they will need to find a way to support their ScanSnap scanners in these environments.
RemoteScan bridges this gap, enabling you to utilize the full benefits of the scanning utility in your business applications. Now, RemoteScan works with the Fujitsu ScanSnap driver to enable the scanners to work with any TWAIN- or ISIS-compliant calling application, no matter where that application is hosted. RemoteScan continues to also work with TWAIN drivers, supporting any of the Fujitsu fi series scanners, as well as any other scanner with TWAIN or WIA drivers.
This gives you greater flexibility — not only can you have the ease of scanning via the push of one button on the ScanSnap, you can now utilize the full functions of any calling application's TWAIN driver. Those functions might include indexing, optical character recognition, bar-code scanning and file formats. The Fujitsu ScanSnap scanners now supported by RemoteScan include the iX500, iX100, S1100i and S1300i.
Do you have a ScanSnap? Try it with RemoteScan now.