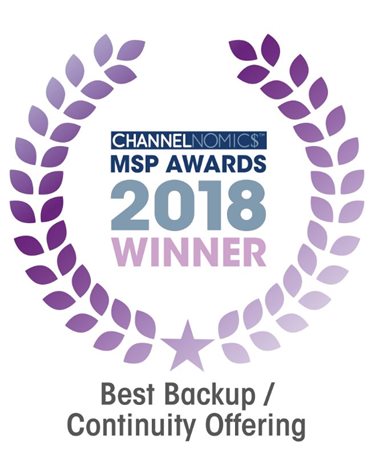 We are thrilled to announce that Quest was awarded the prestigious award of Best Backup/Continuity Offering at the Channelnomics MSP Awards in New York City on April 26th 2018.
We are honoured to receive this significant recognition from Channelnomics. We've built a strategy to make it easier for our MSP partners to build and grow their businesses profitably using Quest technology. We are delighted to receive recognition from the MSP community that validates our strategy is working for our MSP partners.
What is the Quest program for Data Protection Service Providers?
The Quest Managed Service Provider (MSP) program offers one of the fastest ways for MSPs to expand their data protection offerings and tap into a fast growing market. Our blend of cloud-based solutions and on-premise software is uniquely suited to help MSPs deliver a wide selection of data protection offerings for customers of all sizes, helping MSPs to grow their services revenue and increase profitability.
Quest's Predictive Business Continuity solutions enable MSPs to take a proactive approach to infrastructure optimization and data protection. With Quest, MSPs can help their customers realize the maximum value from their hybrid IT environments while reducing risk of business disruption from the constant threat of cyber-attacks, system failures and data loss.
Partnering with Quest simple and profitable
One of our core missions is to be easy to do business with. That's why we've build a program specifically for MSPs that offers a variety of benefits such as:
Subscription-based licensing tailored to suit an MSPs unique business needs
Flexible pay-as-you-grow license models built specifically for growing MSPs
Custom-built customer offers with automated invoicing and chargeback
Full white labelling service at no additional cost
We're committed to helping new MSPs start fast and profit quickly. That's why we offer a range of services to help enable our MSPs and generate demand for their solutions in the market. MSPs partnering with Quest will benefit from:
Dedicated support throughout the on-boarding and ramp up phase of our partnership
A range of accreditation options including sales, technical, and deployment
Co-created business, marketing, and enablement plans
Co-branded marketing campaigns and materials
Partnering with Quest enables MSPs to offer cutting edge solutions for all customers and data centres, large or small, simple or complex. Whether it's on-premise, in the cloud, or hybrid, MSPs can offer Predictive Business Continuity solutions to their customers that help them to differentiate now and in the future.
Interested in learning more?
Data Protection Partners and Service Providers that are interested in learning more about Quest's Managed Service Provider program should visit Quest.com/MSP.