Reimagined? I thought Secondary Storage was trapped on my appliance.
Traditionally secondary storage looks a little bit like this. I have backups on my NetApp Filer, not a great idea, not because its NetApp, they're great, it's because it's my primary storage. So I go to market and look for secondary storage to discover I have two options, a VM with limited storage (that I still need to mount a JBOD too) or I buy an incredibly expensive appliance and in both cases after 5 years buy the whole thing again. Not to mention the difficulties I now face with my Azure VM backups, or the fact my data is growing and if I buy said appliance, I then also need to buy expansions for it.
The Alternative.
Software-defined Secondary Storage.

If I continue with the above scenario, on-premises backups to my NetApp, Cloud Backups to Azure Storage and my DBA's screaming for higher granularity, then software that I can run anywhere sounds like a much better option, in fact, I could probably just give my DBAs their own instance and let them have at it. By using software-defined secondary storage I will still see deduplication of my data, I will still see compression of my data and I would still be able to configure replication of my data to a second, or even third site. And the DBA's have their own instance for self-service. All the capabilities that were trapped on an appliance freed to run where you want to.
There is one additional benefit, okay, maybe two. First, as its software it's perpetual and I own it, i purchase it once, second, it can run on anything I want to run it on! A Virtual Machine let's say in a remote site, a physical server of my choosing or even in a public cloud like Azure, on whatever sized instance I see fit to choose.
What is Secondary Storage Reimagined? - it's Software-Defined Secondary Storage
Built to run anywhere, on anything and support the backup software you choose.

Over the past 10 years Quest has built, supported and innovated in the backup and recovery space, secondary storage included. Today we have announced QoreStor, the industry's first Software-defined Secondary Storage platform. An evolution of proven Quest data deduplication and compression that runs on Linux and supports leading backup software and business critical applications such as VEEAM, SQL Server, Oracle Database, CommVault and our own products including NetVault and vRanger.
QoreStor is available today and a single instance supports up to 360 TiB of backend storage, with a deduplication ratio of 20:1 QoreStor is able to help you protect massive data sets.
We have also release a community edition, available for anyone and includes a full set of features and supports up to 1 TiB of backend data.
If you want to try QoreStor for 30 days or implement the community edition click here to grab the software.
See below for our full list of supported backup software and business applications.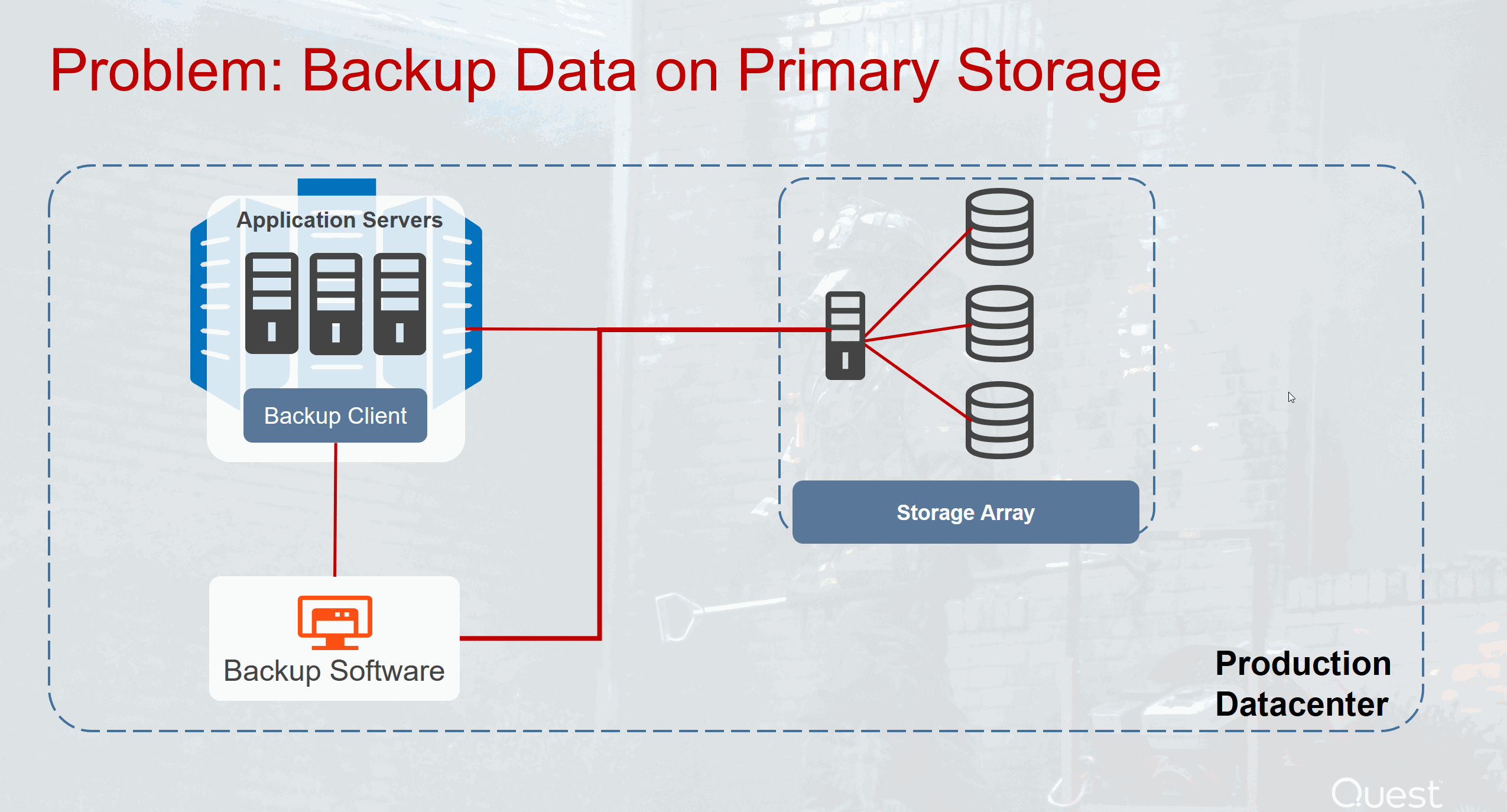 QoreStor 5.0 supports:
Quest NetVault v11 and higher
Quest vRanger v 7.6 and higher
Veeam Backup and Replication v9.5 and higher
CommVault Simpana v11 and higher
Vertias NetBackup v8.1 and higher
Veritas Backup Exec v20 and higher
Oracle RMAN v12 and higher
SQL Server (Backup) v2016 and higher
IBM TSM v8 and higher
CA ARCserve v6 and higher
Dell/EMC Networker v9 and higher
HP Data Protector v10 and higher
QoreStor 5.0 also provides:
Support for up to 360 TiB of data!!! With 256 Streams
Global View Cloud

- Administer all QoreStor instances in a single console, from anywhere, on any device, making QoreStor easy to use, manage and maintain.
Improved performance, scalability and security
For more information visit the QoreStor Webpage and check out our new Deduplication Tech Brief.