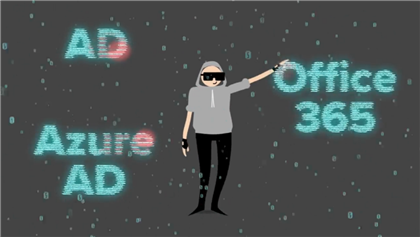 Every Wednesday in May, we're hosting a live four-part webcast series, How to Overcome Common Hybrid AD and Cloud Security Challenges. The webcast series features a fictional character, Hank the Hacker, who represents hackers that appear in many shapes and sizes and who love to exploit of AD, Azure AD and Office 365 security limitations.
In part 1 of the series, we showed you how to identify potential cloud security risks, insider threats and data breaches with continuous assessment.
Now, join us on May 10 at 11 am ET for part 2 of the Hank the Hacker webcast series, Sounding the Alarm with Real-Time AD Detection and Alerting
Active Directory is the backbone and foundation of organizations, providing the main authentication and authorization source for numerous applications and resources. This is also why Active Directory is a prime target for attackers, as it holds user access to critical and sensitive data.
Unauthorized access to AD is like having a stolen key card: Once the attackers are inside the building, they can take the elevator, wander through offices, open desks and look through drawers. And with so many on premise AD accounts and Azure AD accounts under attack daily, putting security measures in place to protect your AD and Windows environment is crucial.
If changes are being made outside of the assessment baseline "norm", someone is accessing data they shouldn't be, or a data breach does happen, you need to have a system in place that automatically detects these changes and alerts you to this suspicious activity to minimize the impact of an attack. 80% of victims of a breach don't realize they've been attacked for a week or longer, and 7% of breach cases, go undiscovered for more than a year, according to Verizon from the 2016 Data Breach Investigations Report. These organizations are relying on native auditing, most likely, but native auditing is limited for both on premise and cloud-based workloads. Native auditing presents a number of challenges including, but not limited to:
Difficult to configure
No proactive alerting on suspicious events
No comprehensive view of all changes from all native log sources
Event details with limited information are difficult to interpret without expertise
No protection exists to prevent unwanted changes to the most sensitive objects, even from privileged users
Searching for a specific event is time consuming and frustrating
No reporting capability to satisfy internal security groups or external compliance requirements
Given these blind spots, you should complement native auditing tools with solutions that give you a clear line of site into your on-premises AD and allow you to integrate it with Azure AD. This positions you to more accurately detect and alert security irregularities.
Join us for this 60-minute webcast where Quest security experts will use a mix of slides and live demo to show you how to define inappropriate changes and create strategic alerts for when they occur.
Even if you aren't planning to migrate your data to Office 365, this webcast series will still be relevant to on-prem only organizations as you will learn how you can apply Active Directory security best practices to your Windows environment to minimize risk and improve your security posture.