The general availability release of SharePoint Server 2016 earlier this month is a good opportunity for me to confirm that our SharePoint management product — Administrator for Office 365 — fully supports the new release since early beta days. If you are an Administrator for Office 365 customer (thank you!), you can rest assured that you can rely on this solution in your transition to SharePoint 2016, Office 365 and OneDrive for Business.
But today I want to highlight a recent enhancement in the product, which is the extended reporting capability in Administrator for Office 365. In addition to site collection dashboards and reports, you can create consolidated reporting projects that give you insights into key aspects of your Office 365 tenant, SharePoint Online sites and OneDrive for Business. You can add your on-premise SharePoint sites to the same reporting project if you have a hybrid SharePoint deployment.
The Collect Statistical Data wizard has been updated to let you select what you want to include in your reporting project.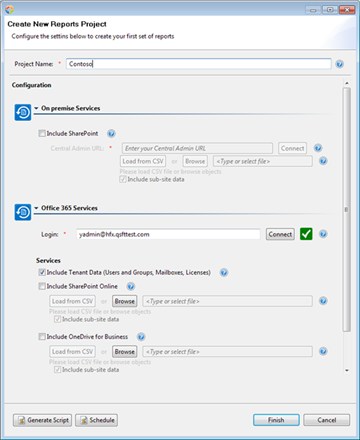 As with most other tasks in the product, you can set up a schedule to update the reports automatically using the Schedule button. You can always initiate a manual update too using Update Data on the Administator tab too.
When data collection is completed, you will find your reporting project in the navigation view of the tool and drill down to get to a dashboard or report of your interest. Administrator for Office 365 includes the following dashboards and reports to help you manage your Office 365 tenant:
License Distribution

License Allocation
License Distribution by User
License Distribution by Service
License Distribution by Department
User Profiles

Users by Manager
Users by Department
Users by Office
Users by City
Users by Country
Users by Location
Groups

Groups by Type
Groups by Members
Groups Accepting External Email
Exchange Online Mailboxes

Mailbox Size
Mailbox Item Count
Mailbox Quotas
Audit Status
Archive Status
On Hold Status
Mailbox Forwarding
Send on Behalf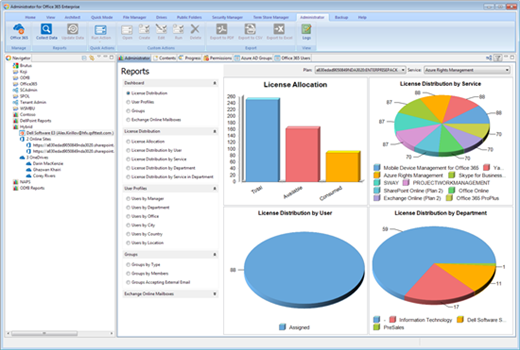 One of the main benefits that Administrator for Office 365 gives you is the ability to take action on the report data. The new reports are no exception. Many of the reports allow you to take quick actions such as assigning an Office 365 license or editing an Office 365/Azure AD group right from the data grid at the bottom of the report.
The SharePoint and OneDrive for Business reports will look very familiar to anyone who has used the product before. Double-clicking on a particular site collection or OneDrive user loads available content and activity reports.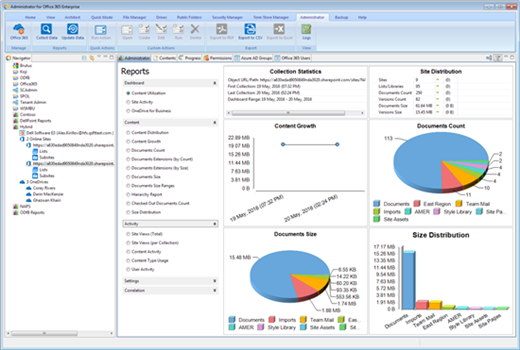 What if you deployed Administrator for Office 365 to site collection owners, who don't have tenant/farm administrative permissions to run the data collection? We got you covered! They can still create site reports by selecting Collect Statistics Data from the right-click menu on the site in the navigation pane.
To learn more you can watch this short video.