Quest® Change Auditor was named the winner of a Silver Stevie® Award in the New Product or Service of the Year - Software - Other category in The 16th Annual American Business Awards®.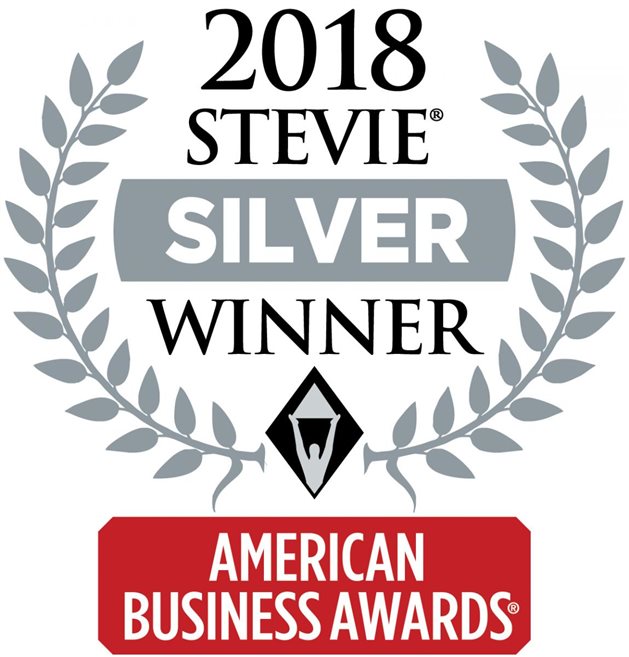 The American Business Awards are the U.S.A.'s premier business awards program. All organizations operating in the U.S.A. are eligible to submit nominations — public and private, for-profit and non-profit, large and small.
More than 3,700 nominations from organizations of all sizes and in virtually every industry were submitted this year for consideration in a wide range of categories, including Startup of the Year, Executive of the Year, Best New Product or Service of the Year, Marketing Campaign of the Year, Live Event of the Year and App of the Year, among others. More than 200 professionals worldwide participated in the judging process to select this year's Stevie® Award winners.
What is Change Auditor?
IT staff along with their security and compliance teams rely on Change Auditor to audit, alert, protect and report on user and administrator activity, along with configuration and application changes. The solution helps enterprises prevent risk of system downtime, misuse of sensitive data, failed audits and security breaches, while ensuring business management can prove to auditors and internal stakeholders that compliance and security policies are enforced throughout the organization.
Change Auditor provides complete real-time change auditing, in-depth forensics, and comprehensive reporting on all key configuration, user, and administrator changes — across a wide number of Microsoft and non-Microsoft platforms — all in a single console.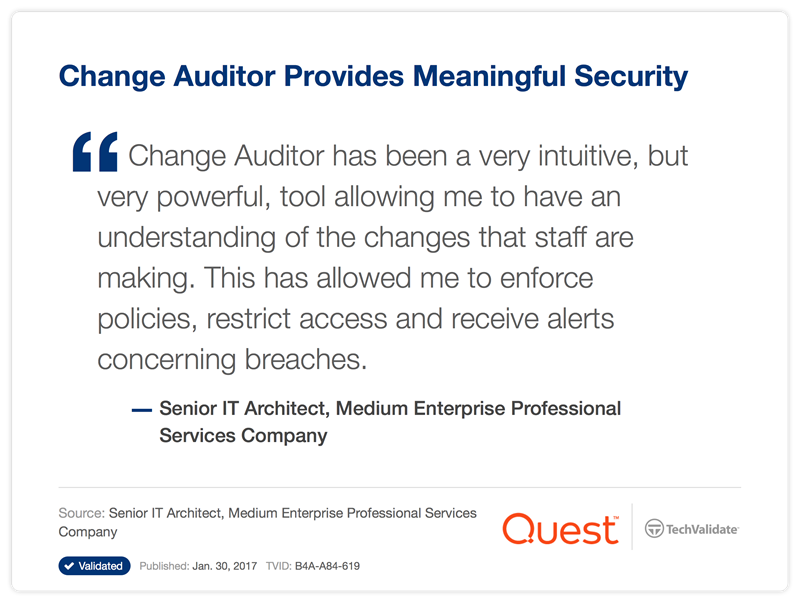 Tracking creates, deletes, modifications and access attempts could not be any easier, and understanding what happened is a breeze because each event and all related events are displayed in simple terms, giving you the requisite five Ws — who, what, when, where and originating workstation, plus the previous and current settings.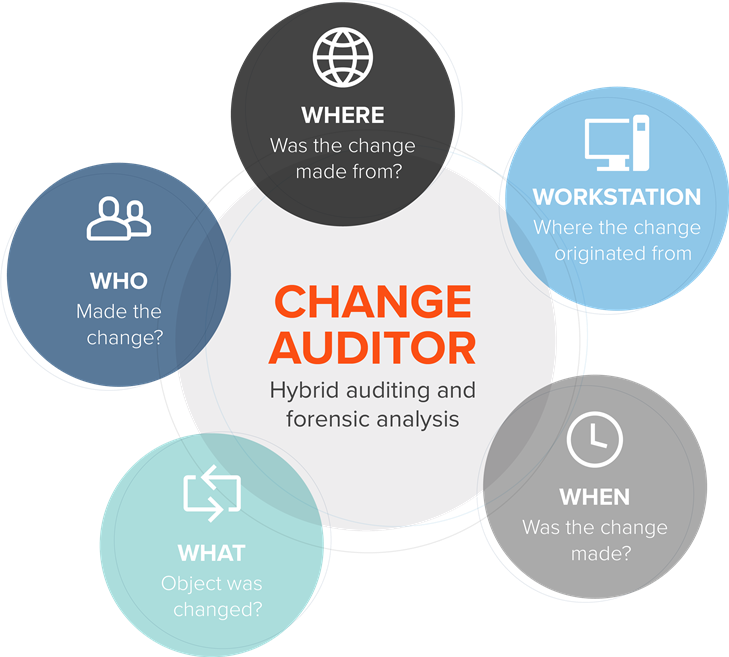 Innovations in 2017
The New Product or Service of the Year category includes all product management, product development, product engineering and manufacturing functions. New products and services, including brand-new and new-version products, released in the U.S. since January 1, 2017 were eligible to be nominated.
As organizations shift to the cloud, new security concerns arise, particularly how secure their cloud data is once the migration is complete. Where is data being stored? Who is accessing that data? What are they doing with that data? With IT administrators now responsible for managing multiple environments, both on-premises and cloud resources, the risk of attack for external threats and insider attacks grows.
In 2017, significant enhancements were made to Change Auditor to give organizations the power to audit their Office 365 environments, including Azure Active Directory (AD), Exchange Online, SharePoint Online and OneDrive for Business, alongside their on-premises data — Active Directory, Exchange, Windows file servers, SQL Servers, SharePoint, Skype for Business, VMware, and network-attached storage such as Dell EMC, NetApp, and Dell FluidFS. Unlike native tools and other third-party solutions, Change Auditor enables organizations to instantly see the who, what, when, where and from what workstation a change was made, as well as whether data was being accessed, deleted, moved or created — all with before and after values — across all environments from a single console. This simplifies the compliance and investigation process for organizations.
Change Auditor fills the gaps of native Office 365 auditing tools to address a number of challenges, including:
Audit configuration difficulties — Native tools don't provide a way to monitor audit policies in case they are changed or disabled by other administrators. Mailboxes have to be configured one at a time with no automation.
Change event interpretation difficulties — Audit data is very raw, not normalized, lacks friendly display names and the format constantly changes, which makes interpreting events difficult.
Limited audit data history — Natively, audit data is only retained for a limited time (90 days) before it is permanently lost, conflicting with many internal security policies and external compliance regulations.
Limited search capabilities — Search limitations include, but are not limited to, searches cannot easily isolate changes that only took place in cloud vs. on premises, and searches can only be done by target object rather than combining multiple criteria (for example, user and date) for more refined results.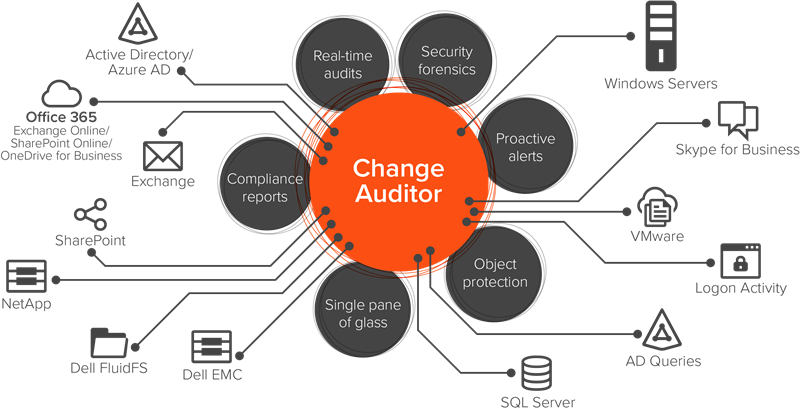 Change Auditor provides a single, correlated view of activity changes taking place across hybrid environments, whether on premises or in the cloud, which is not something that can be done natively. Change Auditor:
Consolidates event data from on premises and from cloud targets, which:

Provides a centralized single-pane-of-glass view across both environments
Works around the limitations with on-premises native auditing, as well as with cloud native auditing

Correlates identities across on premises and cloud, which:

Displays both identities for the who/actor and what/target object fields
Presents the who, what, when, where and from what workstation view of every event, whether it occurred on premises or in the cloud
Allows you to search by either and get all results regardless of where the activity originated

Configures and maintains your audit policy across your hybrid environment to:

Ensure audit policies remain applied and are not changed by admins
Automatically apply the policy to new in-scope objects
Store an unlimited history of audit data to satisfy internal security policies and external compliance regulations
What's next?
Each year, the Quest R&D and Product Management teams continue to innovate and invest in Change Auditor. Recently released at the end of May, version 7.0 added some additional functionality, such as:
Event forwarding to Splunk
Event forwarding to HP ArcSight and IBM QRadar (preview)
High availability of the Change Auditor database with SQL AlwaysOn
Support for Group Managed Service Accounts (gMSAs)
The ability to manage AD object protection with PowerShell commands
The ability to search for events based on group membership in the target field
Improved management of read-only domain controllers (RODCs) for deployment of agents
Check out this helpful video that shows the new integration:
Change Auditor integration with SIEM solutions and Quest InTrust®
In addition to receiving the Silver Stevie® Award in the New Product or Service of the Year - Software - Other category, Change Auditor also took home the 2018 People's Choice Stevie® Award. Take a moment to read my other blog where I share why customers love Change Auditor.
Not a current Change Auditor customer? Take Change Auditor for a spin today!