Alright, you all have been using Office 365 environment for some time now, we guess that adoption rates of all the tools are high and that everyone is using every aspect – correct? I am sorry to say but it is easy to turn on features and raise subscription levels for users that will never use some of the feature set. It's best to audit who is using what and how to trim away unused license levels to lower levels for those not truly using the tools.
We need reporting to see who is using what, and the utilization of the environment. We look to Microsoft as we already are paying them, so surely they have great reports on their own environment. (laughter) Hey Microsoft is trying to improve their reporting and they just gave us this report below: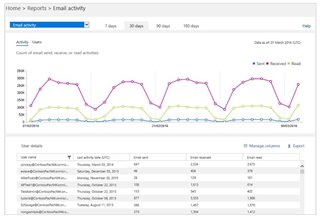 But now we need more intense reporting. Reporting that can be measured over time for true analysis and comprehension. Did you know Microsoft only keeps up to 180 days of data on usage etc. for customer use in reports? Now it is time to mention the heavy hitter – the product to give you reporting on O365 the way it should be. Lots of data (no 180 day limit like O365) – in detailed or high level (management sharing) format. Wouldn't it be nice to go to your boss and say in the last year the following people have never used Skype and that you would like to save the company some money? Now you can.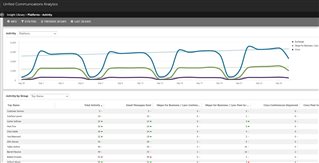 Want to see a time comparison and filter the data easily without the need for exporting it to Excel and having to manipulate the data? Now you can do all this and more with Quest Unified Communication Analytics (UCA). It can cover areas that Microsoft won't help with example : Cisco IP Phone / Conferencing, Skype, Email Analytics reporting even custom chargeback reports for divisions or other entities.
When was the last time your company audited who had access/delegation rights to various CEO/CFO/President and Exec mailboxes in regards to READ/SEND AS etc.? Simple reports in Unified Communications Manager (UCA) by Quest can help. Or maybe you need to report on inactive mailboxes, mailbox trends, quotas, mobile devices, etc. UCA can help with this. This solution will work with On-Prem Exchange and also Hybrid and Non-Hybrid O365 environments.
Subscription levels and usage reporting is not really in the best interest of Microsoft. Why would they want you to see non-usage and then for you to scale back subscription levels? That would be counterproductive to their revenue.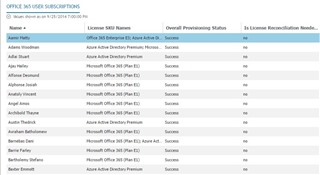 No time to run those reports on weekly or monthly basis? It's simple to subscribe in Unified Communications Analytics (UCA) by Quest to have those sent to you via email or even saved out to a file share for ongoing monitoring. UCA can give you hundreds of pre-created but fully customizable reports for securing, cleaning and auditing your environment.
The importance of a secure environment is very important when you are talking about the O365 - cloud because this environment can be so easily accessed from hackers. It's not good to leave an account of a terminated or temporary consultant that still has access to mailboxes etc.
Unified Communications Analytics
https://www.quest.com/products/unified-communications-analytics/