And if you liked it then you should have put a ring on it!
It's nearing the time when free upgrades to Windows 10 will expire (July 29th) and although many have already adopted Windows 10 and are ready for the "Windows as a Service" way of life, some of you are holding back. You might have tried it and liked it, but you're playing it cool. This new approach to getting updates faster sounds great, but you're not quite sure you what this all means. Well, it's time to learn, because the momentum is gaining and you don't want to get left behind.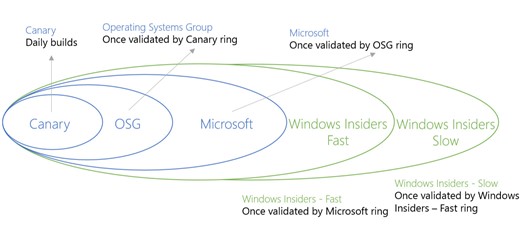 [Source 1] October 21, 2014: https://blogs.windows.com/windowsexperience/2014/10/21/were-rolling-out-our-first-new-build-to-the-windows-insider-program/#GhQ8mruK5Ks9pHhj.97
Windows 10 is now the second most popular operating system with ~19% of the market share behind Windows 7 with 49%.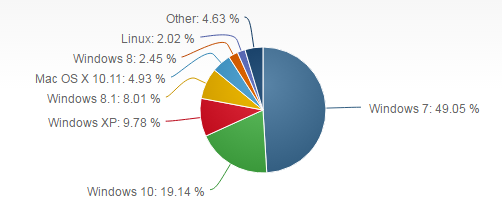 [Source 2] June 2016: https://www.netmarketshare.com/operating-system-market-share.aspx?qprid=10&qpcustomd=0
What's stopping you from committing?
In days of old (Windows XP and earlier), application compatibility testing would have been a major barrier to upgrades; however, since Windows 7, application compatibility should not be the great inhibitor to large scale migrations it once was. The reason is that if you've already done all the testing on Windows 7, you've already filtered out most of the troublesome apps. You will of course still need to check all your core apps and business critical apps since you probably don't want to wing it with those. And if you want to use the Edge browser, please … I see much testing in your future. You will also need to have a good long think about how you will manage constant tiny migrations in the future, to ensure they don't become tiny migraines.
What's there to love?
Well, you'll get Microsoft Passport which will make logins faster, safer and easier, Windows will talk to you when no one else will (via Cortana), plus it will listen to you and remember what you like, remind you of your appointments, birthdays, that sort of thing, which is rare. You'll get to use the Windows Store for better app shopping – I know this is a feature that many organizations have wanted for some time. It will also provide space age "universal" apps, or UWP, that can port well to different devices and more importantly, you'll get better security options for enterprise including MFA, multi-factor authentication, plus much more.
So, does that mean you should jump in with two feet and embrace Windows 10? Well, not so fast. Like any new relationship, you need to take some time to understand this shiny new OS with all its big promises.
What you need to know first
New features, better security, all great, all worth upgrading for, but if you are looking after a corporate network, then there are other things that you need to be aware of. Here comes the buzz kill …
You will need to:

[Source 3] July 14, 2016: https://docs.microsoft.com/en-us/windows/deployment/update/waas-overview
Understand your license agreement with Microsoft – this will help you determine which options are available to you.
Know how many service updates you can delay without breaching your support agreement with Microsoft. I know you're already thinking about this, but it'll be less than you think.
Understand the servicing timeline and how the update frequency will affect your application testing. Keep in mind, OS patches have been known to "break" applications. Whether they're 3rd party apps or in-house created, not all apps are coded equally and you will need to ensure that (at the very least) your business critical apps are still going to work post-update.
Be aware of the feature release schedule. This will differ from the servicing update schedule and again you'll need to minimize post deployment failure by testing apps before you apply the changes.
And lastly, you'll need to realize that the service updates are bundled and cumulative. You will not be able to choose which ones to apply. If a patch conflicts with an app, you will need to change that app – you cannot opt out of any patches. Also, you probably don't currently apply ALL OS patches today – you might just pick the critical ones. Well those days will be gone, so this will be something that you'll need to get to grips with – quickly.
The chart in the next section will help you get a better view of the servicing options.
Servicing option summary
Comparison

Windows 10 servicing options

Current Branch (CB)

Current Branch for Business (CBB)

Long-Term Servicing Branch (LTSB)

Availability of new feature upgrades for installation

Immediate

Deferred by ~4 months

Not applicable

Supported editions

Windows 10 Home, Windows 10 Pro, Windows 10 Education, Windows 10 Enterprise, IoT Core, IoT Core Pro

Windows 10 Pro, Windows 10 Education, Windows 10 Enterprise, IoT Core Pro

Windows 10 Enterprise LTSB

Minimum length of servicing lifetime

Approximately 4 Months

Approximately 8 months

10 years

Ongoing installation of new feature upgrades required to receive servicing updates

Yes

Yes

No

Supports Windows Update for release deployment

Yes

Yes

Yes

Supports Windows Server Update Services for release deployment

Yes (excludes Home)

Yes

Yes

Supports Configuration Manager/configuration management systems for release deployment

Yes (excludes Home)

Yes

Yes

First party browsers included

Microsoft Edge, Internet Explorer 11

Microsoft Edge, IE11

IE11

Notable Windows system apps removed

None

None

Microsoft Edge, Windows Store Client, Cortana (limited search available)

Notable Windows universal apps removed

None

None

Outlook Mail/Calendar, OneNote, Weather, News, Sports, Money, Photos, Camera, Music, Clock
[Source 4] July 11, 2016: https://docs.microsoft.com/en-us/windows/deployment/update/index
And here's a handy image that shows how the feature upgrades and OS updates will differ in frequency as well as which licensing editions will get the updates. The "S" marks the OS patch updates and the "F" marks the feature upgrades.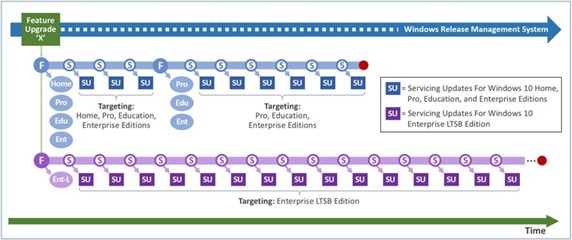 [Source 5] July 11, 2016: https://docs.microsoft.com/en-us/windows/deployment/update/index
This table will help you get an idea of what service branches other organizations are choosing. Keep in mind this is not a recommendation – just a sampling.
| | | | | |
| --- | --- | --- | --- | --- |
| Industry | Windows Insider Program | Current Branch | Current Branch for Business | Long-Term Servicing Branch |
| Retail | <1% | 10% | 60% | 30% |
| Manufacturing | <1% | 10% | 55% | 45% |
| Pharmaceuticals | <1% | 10% | 50% | 40% |
| Consulting | 10% | 50% | 35% | 5% |
| Software developer | 30% | 60% | 5% | 5% |
[Source 6] July 14, 2016: https://docs.microsoft.com/en-us/windows/deployment/update/waas-overview
So, like any big commitment, you need to be aware of what you're getting yourself in for. With Windows 10, you'll enter a whole new Windows platform -- they're calling it Windows as a Service, and it'll be worth it, just do your homework first!
NOTE: Those on Windows XP should worry though – for many reasons, guys you need to upgrade now and application compatibility will be a thing for you. Get in touch.
Check out Chris Maher's blog on Windows 10 Servicing.