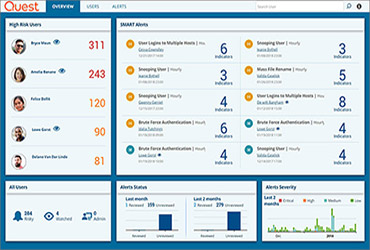 Proactively detect user threats with a behavior-based strategy, rather than rules-based, to limit false positives and simplify anomaly detection. See for yourself how to:
Efficiently analyze a high volume of audit data in real-time, including AD changes, authentications and file activity.
Model user activity patterns without any administrator input or configuration required.
Identify abnormal user activity by automatically comparing every user action against that user's behavioral baseline.
Employ SMART user threat alerts that are only raised when a correlated pattern of anomalous user behavior is detected.
View all suspicious user activity alerts in the context of the threat indicators that were discovered as part of the alert.