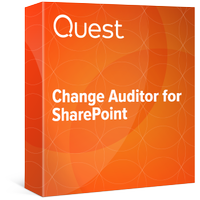 Change Auditor for SharePoint enables faster, easier and more secure Microsoft® Sharepoint® auditing. It tracks, audits, reports and alerts on changes to SharePoint farms, servers, sites, users, permissions and more — all in real time.
Change Auditor for SharePoint translates events into simple terms and stores data in one centralized and secure database. It also generates intelligent, in-depth reports to protect against policy violations, delivering the SharePoint reporting data you need to pass your next audit.
See for yourself how to get cost-effective real-time tracking for SharePoint.
Start your virtual trial of Change Auditor for SharePoint today!