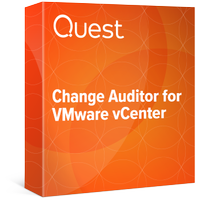 Change Auditor for VMware vCenter helps you ensure the security, compliance and control of event activity and the security of VMware® vCenter Server™. It manages, audits, reports and provides alerts on all changes to the platform in real time, making VMware monitoring easy. Now administrators can analyze events and changes without complexity and fear of unknown security concerns, and be confident that compliance demands satisfy the scrutiny of any auditor.
Change Auditor for VMware vCenter is freeware and included with other Change Auditor modules, including all trial versions.
See for yourself how to get cost-effective real-time tracking for VMware vCenter.
Start your virtual trial of Change Auditor for VMware vCenter today!