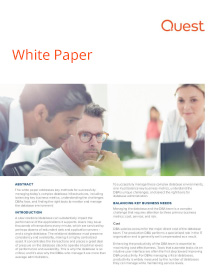 When it comes to migrating to the newest version of SharePoint, if you are failing to prepare you are preparing to fail. In a recent webcast, Vlad Catrinescu, Microsoft SharePoint MVP, explained that before beginning the nuts-and-bolts work of the actual migration, the IT professional needs to assess the source environment for potential issues. Most importantly, they have to realize that modern SharePoint is fundamentally different than previous versions.
In this informative white paper, you'll explore the different aspects of migrating to a new version of SharePoint, such as:
Pre-migration planning and whether you want to go fully on premises, online or a hybrid
Managing and securing data, like your libraries and lists
Customization of pages and how they will change during and post migration
Coding of advanced workflows to ensure a smooth transition
We'll also discuss how you can accelerate and streamline content migration, management and security for on-premises, in the cloud or in a hybrid environment, with Quest Metalogix solutions.