Quest EMPOWER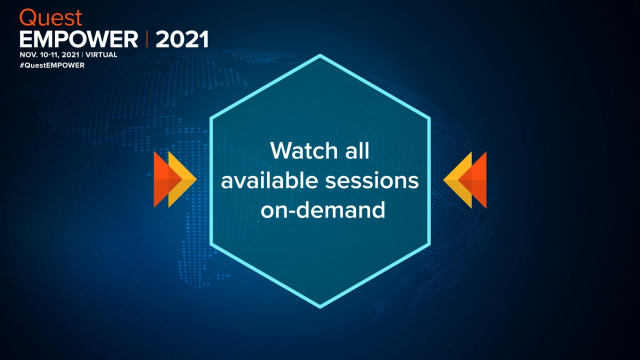 01:02
Quest EMPOWER 2021 was a huge success. Being virtual didn't detract from the tremendous value customers gained from interacting with the experts, and it gave everyone the flexibility to attend the sessions that interested them most.
The live conference is now over, but we've got the resources to help keep the momentum going. By clicking below, you'll be able to watch sessions from both days of Quest EMPOWER (with the exception of product roadmaps). There was so much to learn, think about and envision for your own organization. If there's anything you missed, or want to watch again, it's available now on-demand.
That's right, sessions from the Data Operations, Data Protection and Data Governance tracks as well as the keynotes – are available from the comfort of your home.
Choose the Quest EMPOWER day you want to watch, and see it again on-demand: