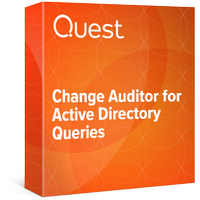 Change Auditor for Active Directory Queries provides real-time tracking, analysis and reporting on all Microsoft® Active Directory®-based and LDAP queries. By detecting queries in real time, you can eliminate the time and complexity required for auditing and determine the source of queries prior to a directory migration or consolidation. You can also measure domain controller performance and easily translate query data into the simple terms of who, what, when, where and originating workstation.
See for yourself how to get cost-effective real-time tracking for Active Directory queries.
Start your virtual trial of Change Auditor for Active Directory Queries today!