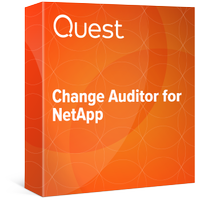 Change Auditor for NetApp provides real-time tracking, auditing, reporting and alerting on all changes to help ensure the security, compliance and control of files and folders. Change Auditor for NetApp enables administrators to monitor, report on and analyze events and changes without complexity and fear of unknown security concerns. You will instantly know who made what change when and where, and from what originating workstation for enhanced NetApp security. You can then automatically generate intelligent, in-depth forensics for all change events for a complete auditing picture.
See for yourself how to get cost-effective real-time tracking for NetApp.
Start your virtual trial of Change Auditor for NetApp today!