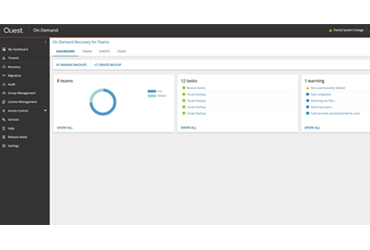 Quest On Demand Recovery for Teams is a recovery module in the Quest On Demand SaaS portfolio. It helps you back up and recover Microsoft Teams quickly and easily, minimizing downtime and maintaining productivity and collaboration. With the recent work-from-home surge, active Teams users has more than doubled and the sudden dependence on Teams brings new challenges, including how to protect Teams data.
With On Demand Recovery for Teams, you can:
Easily back up and restore Teams configurations, channel conversations and SharePoint files
Restore Teams and SharePoint data from the recycle bin
Automate the Teams backup and recovery process.