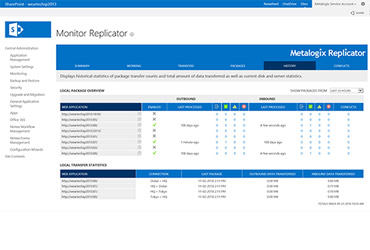 Synchronize, replicate and collaborate across multiple SharePoint farms without impact. See for yourself how to:
Synchronize SharePoint content between large geo-dispersed farms as soon as changes happen or on a regular schedule.
Synchronize SharePoint farms wherever they're located—even over challenged or low-bandwidth networks.
Replicate SharePoint content to Azure, Amazon or other cloud providers.
View your entire SharePoint layout to verify and monitor the status of all your SharePoint replication activity over multiple servers and across distant farms.
Simplify the management of SharePoint replication tasks and activities with an intuitive interface.