The Association of Support Professionals (ASP) has announced the winners of its "Ten Best Web Support Sites" competition that showcases excellence in online service and support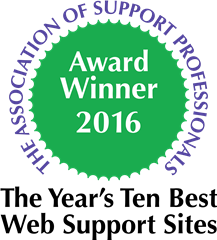 See how we can improve your business
As you know, time is your most valuable business asset. How you leverage it greatly impacts the success of your organization – especially in the long-term.
Devoting your limited resources to dealing with product issues, outages, and other hassles prevents you from focusing on innovation and strategic business initiatives that can drive sales, accelerate profits and distinguish your organization from its competition.
Yes, it can be that simple.
That's where we can help. Our solutions save you time by simplifying IT administrative responsibilities. And then we complement this with ongoing, world-class maintenance and support that provides you with the freedom to take a holistic view of your organization, and escape the day-to-day, micro-management mindset.
Award-winning technical support
In fact, we were recently named by the Association of Support Professionals (ASP) as a "Ten Best Web Support Site" award winner. This prestigious honor highlights our excellence in online service and support. The award is based on 25 performance criteria, including overall usability, design and navigation, knowledge base and search implementation, interactive features and community engagement.
In short, this level of support gives you the power to achieve more in less time.
Benefits of ongoing technical support and maintenance
With an ongoing technical support and maintenance agreement, you can maximize your software investment and take full advantage of our support offerings, enabling you to:
Resolve technical issues rapidly
Address new challenges efficiently with software updates
Easily keep track of license keys
We'll also help you protect your network from malware with security updates, avoid the hassle and costs of purchasing new releases, streamline license management and get fast answers with 24x7 access to our support portal.
Learn more
After purchasing one of our products, you'll experience free technical support and maintenance for 12 months. But, you'll need to renew your agreement after that.
Learn more about the benefits of a support and maintenance agreement. Or renew your agreement today.