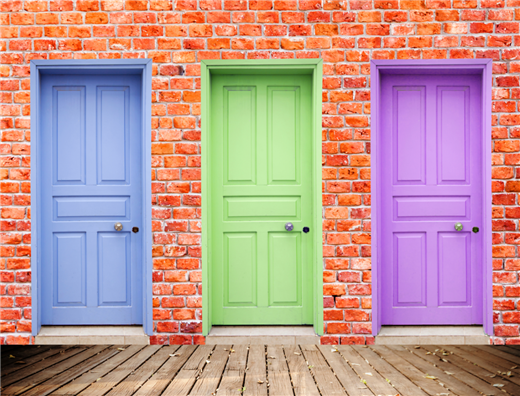 The other day I finally made the decision to buy a new pair of running/workout shoes. I had been debating for a while. But then recently, thanks to Facebook's 'On This Day' feature, I was reminded that my shoes were over 3 years old. They were worn out and I said, "Yup, it's time."
Most people have purchased running shoes before. So you know it's not the easiest process, unless you're an avid runner who has found their golden pair of shoes and just sticks with the exact brand and style each time. But that's not me. So I needed to buckle down and do some research.
Now you're probably wondering why I'm talking about shoes and what this has to do with us, but I promise there's a connection — and that is that as consumers, we have options.
But it's up to us to ensure we're making the right choice.
Prior to my current role in product marketing, I was part of our Microsoft Platform Management sales force and talked to customers every day. One of the things I never had to worry about was whether or not the product I was selling was good. It was a given — they are the best. But it was my job to communicate that to customers and help them understand it.
More and more today, consumers are searching for information on their own rather than relying on someone to tell them. For example, have you been to a store recently where the sales person wasn't really that knowledgeable and you probably could have discovered more on your own (yes this happened at the shoe store)? Why would I want Nike over Under Armour? I've always gone with Nike in the past, but is now the time to try something new?
So it was on me to research this company and the product I wanted to buy, which made me think….if I'm doing that for my own purchase, would our customers be able to do the same for our products?
Here's how I rated my shoe purchase and how you can compare this to evaluating our Microsoft Platform Management solutions:
Quality
I'm willing to pay more for quality. Do it once, do it right. This is something I'm going to be putting to the pavement every day, (except for when I miss those 5 am workouts). So quality has to be there or what's the point?! I end up spending more money in the long-run because that inexpensive pair of shoes wears out much faster or doesn't provide support, and I'm right back at the store.
With our Microsoft Platform Management solutions, yes we have competitors. And yes, they can be less expensive, but there's a reason for that. Just like shoes, when you cut on cost, you cut on quality. And while evaluating the quality of shoes is difficult, other than walking around in the store, that's not the case with our software solutions.
When comparing vendors, it's critical to run a proof-of-concept on each vendor you're looking at. Why? Well you're more than likely using this solution every day, for critical applications, and you're investing your organizations money into something long-term! Why wouldn't you spend the time to test the quality of each solution: does it scale, how intuitive or user friendly is it, and does it solve your unique business and technical problems?
And with our solutions, the evaluation process is easy. We have resources to help you install the solution, run that POC, and did I mention that you have full access to our tech support group during your software trial period? You can even spin up VMs from the Azure Marketplace!
After testing our solutions and comparing them to others, you'll notice the difference. If you can't or don't have the time to run a POC, then extensive research has to be done elsewhere, which brings me to my next point.
Reviews
According to Spiceworks, 99% of IT buyers search for reviews and 72% consider case studies. When I shop on Amazon, the first thing I look at is the reviews (well besides if it has Prime shipping). Specifically, I filter by the most recent reviews — and good thing Under Armour's website had reviews on their shoes from recent customers.
Similarly with software, are you checking reviews? Are you asking your industry peers? Are you asking your vendors to provide references? And not just happy customer references, but what about references where a customer now owns Vendor A, which you are considering, but had previously owned alternative/competitor Vendor B which you are also considering, but made a switch. Why did they switch? What did they experience with their first solution?
TechValidate, a SurveyMonkey company is a trusted third-party research organization that directly interfaces with business and technology end users to collect and validate information about their deployments. It is customer testimonials like these below that shows potential customers how truly satisfied our current customers are with their decision to purchase our Microsoft Platform Management solutions.
More information is available at www.techvalidate.com.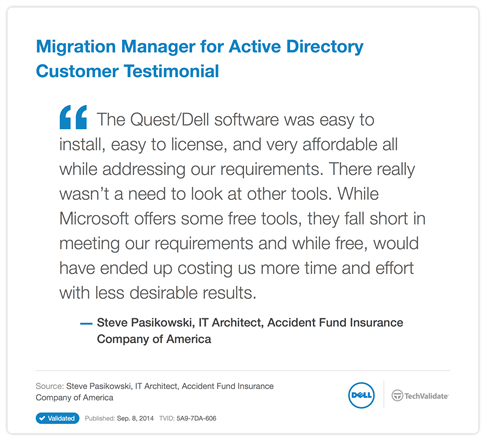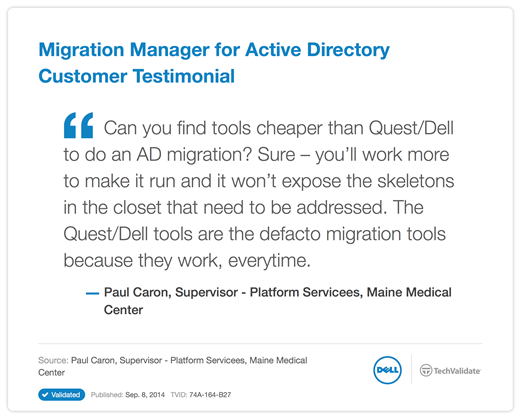 Brand Name
While I had never worn Under Armour shoes, I was familiar with their clothing and knew they made high quality products. So it was my previous experience and familiarity with their brand that led me to check out their shoes.
The Microsoft Platform Management solutions are made up of a rock solid team of people, products, and support that came from legacy Quest Software when Dell acquired the company almost 4 years ago. Quest Software at the time was an established brand; Customers knew the company, knew the products, and there was a solid reputation built. Dell has also established its own brand and reputation that these solutions have leveraged for the last few years, but at the core of the products is still reputable experience in the Windows and Microsoft platform management space for over 20 years, 24x7 award-winning support, and statistics that stop and make you think such as the fact that we have:
Managed 149+ million AD accounts … that's more than 6x the number of people living in Australia.

Audited 101+ million user accounts across 12 platforms … that's nearly 4x the entire population of Texas – Hook 'em!

Migrated 72+ million AD accounts … that's more than 8x the number of people living in NYC.

Migrated 59+ million mailboxes to Office 365 and Exchange … that's nearly double what any other migration vendor has migrated.
Fit & Performance
Two variables that really are hard to know prior to your purchase. I purchased Under Armour shoes that felt great and were super supportive, but I ended up with blisters almost immediately due to the design and fit.
It's the same with software, which is why proof-of-concept testing is extremely important. For example, I once had a customer that was looking to purchase our solution and from experience knew that our competitor's solution couldn't scale, would get bogged down with reporting and just couldn't handle large volumes of data as well as we could. He knew from personal experience in using both solutions at different companies he worked for.
So if you don't have the experience and you're looking for a new solution, then it's imperative to do your research, put the solution to the test, find out as much as you can from current customers, and really know what you're getting yourself into. Otherwise, there's a good chance you'll be back at the store shopping again....