Starting in Toad Data Point 4.1, a new feature will allow you to easily search Toad World and Toad Knowledge Base articles whenever you encounter a database error.
For example, say you are running a query in the editor and get an "Ora-00942: table or view does not exist" error returned. Instead of having to go to multiple search engines to find information, now all you need to do is click the Lookup Error button, in the database error message, to open a page displaying multiple search results from a variety of sources.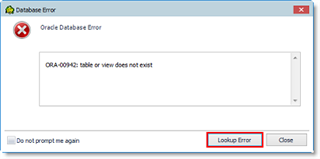 Toad Data Point will return search results from Toad World and Toad Knowledge Base articles. In addition, links to searches from a variety of search engines, such as Google, are also provided. Open these Web Search links to display search results from the Web. This will all be displayed in a clean, easy to use window that will open within Toad Data Point.
If needed, you can also modify the search string to customize your search results or to remove object names and other internal information.