In previous posts, Valerie highlighted the new features in Enterprise Reporter v2.5 (released December 2, 2014) and Jason discussed how to filter the Enterprise Reporter Access Explorer list of managed computers using keywords.

In the next series of Enterprise Reporter blog posts, we'll be covering Enterprise Reporter Setup and Configuration - starting with the Enterprise Reporter Credential Manager. The Credential Manager is a credential store that keeps all of your credential information together, safe, and easy to manage.
Why would I want to use the Credential Manager?
There are many components in Enterprise Reporter that use different credentials to access various resources. You have to specify Node credentials to deploy a node, Discovery credentials to perform specific discoveries, credentials to schedule reports, and even credentials to access an SMTP server to send automated emails. In Enterprise Reporter, you can store all of those credentials in a centralized vault that is encrypted and accessible only by you.
With the current concern about security, most companies apply a security policy and force changing passwords on a regular basis. That becomes a really big problem for most applications that use schedules or services, or just save the password in their store. Credential changes have to be performed and all passwords have to be synchronized. Having a unique credentials repository allows you to manage your credentials easily and perform password updates quickly. Within Enterprise Reporter, open the Credential Manager and change an existing account password. The system will perform an analysis and propagate all changes automatically to all components using that credential.
This example shows the efficiency of Credential Manager in Enterprise Reporter.
For example, let's say that you're using the credential — hal-rtest3\auto — to deploy a Discovery Node and to run discoveries, but the password on that service account needs to change.

To tell the system to use your new password, go to System | Configuration, and click the credential manager link.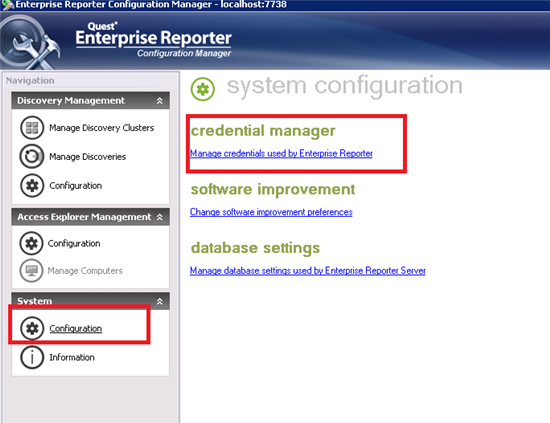 The Credential Manager window displays all of the credentials you have stored.
To edit a credential, select the credential, and click Edit.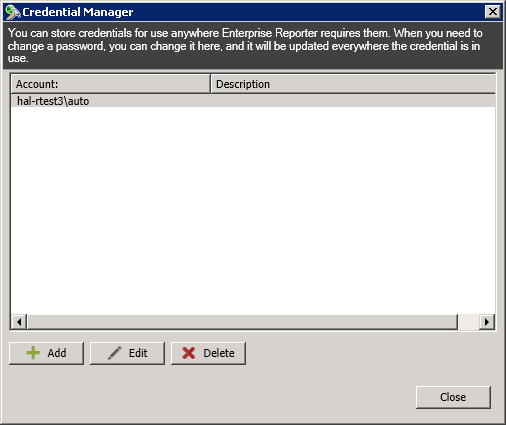 Specify a new password, and click OK.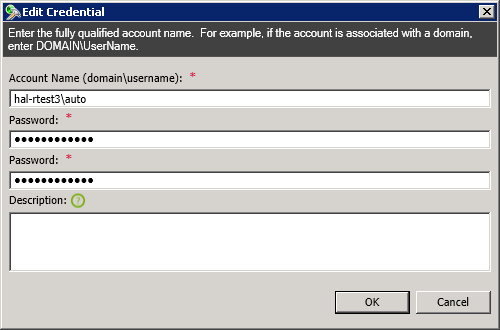 The system detects all objects that use this credential and applies a new password automatically.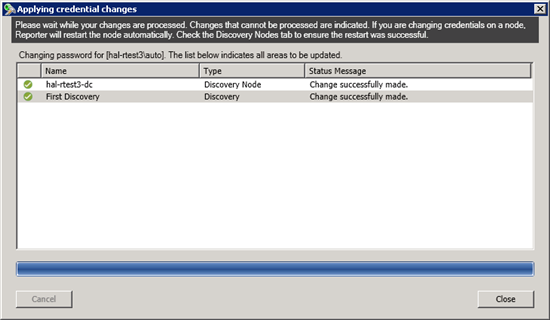 Credential Manager is a very useful tool to help you organize all of your credentials. A few steps and you quickly change the password on the credentials you choose to store in Enterprise Reporter.
For more information about the Credential Manager, see the Enterprise Reporter Configuration Manager User Guide.
Tips to remember
Configuration Manager is separate from Report Manager but shares the same credentials store.
Credentials entered by another person may be reused. Any configuration manager can perform credential changes to discoveries and nodes, even if those discoveries where created/deployed by another administrator.
You can store the same credential several times with different descriptions. For example, if your SMTP credentials are the same as your Node credentials, but you do not want to manage them together, you can create two credentials for hal-rtest3\auto with different descriptions. This allows you to change the SMTP credentials without affecting the Node credentials. If you decide to use hal-rtest3\smtpuser to access the SMTP server, but want to keep using hal-rtest3\auto for Discovery Nodes, you can easily change the credentials for just the SMTP server.
Credentials are never validated by the Credential Manager, so if you specify the wrong password and apply those credentials, operations such as node deployment, discovery execution, or scheduled report generation using these credentials will fail.
In the next Setup and Configuration installment, Jason will discuss how to select scopes from other domains. Stay tuned!