Olá
This is my first blog so I hope you like to read it.
You probably have heard about Lisbon by now. It's all over the place. Vogue, Conde Nast, CNN, all call it "the next big thing".
Why I am telling you this? First because I am Portuguese and Lisbon is my home town. Secondly because I love Lisbon and Pastéis de Belém. Thirdly, because, this year, Lisbon will host one of the most important summits in Europe – Web Summit 2016, from November 7th -10th (sorry Irish colleagues, we snatch it from Dublin).
Web Summit is one of the biggest events in the tech world. More than 50.000 attendees, 7000CEOs, 20.000 companies from 150 countries prove it. Bloomberg calls it "Davos for Geeks".
Still not sure if you should ask your boss to fund your trip to Lisbon? More arguments to help you, please continue to read. Web Summit has become "Europe's largest and most important technology marketplace", where the global tech community gets together to know how new software and hardware can transform their businesses. Well, global and community are magic words in our team (in case you are wondering we have 10 magic words), so we will be following this event for sure. Read more about Web Summit and magic words on future posts (build anticipation is a well-known tactic in marketing)!
So, it's time: Are you ready to go to Lisbon? I hope, by now, you are already searching cheap flights in Momondo. Don't forget to tell your boss that if you book soon, you have the early bird discount. With the savings book a table, for you and your colleagues, at "Bairro do Avillez", from Michelin starred chef Jose Avillez (opens in August).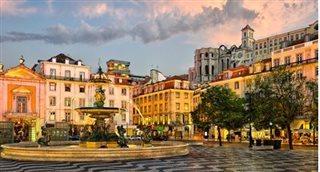 Finally you must be wondering about the other 4 things you can do in Lisbon, besides catching Pokémon. Well, I am from marketing so the tittle had to be catchy and full of keywords. If you need the 5 things' list just drop me an email and I will tell you at least 10! I love to show off my home town.
By the way, do you know that Portugal won the European Football Championship in July 2016?

Cristina
Slow traveller