Citrix XenDesktop and XenApp have certainly saved your company's bacon, haven't they?
Users can log in to their desktop or run specific apps from anywhere on almost any device. Management is satisfied because productivity is up and you're spending less money on traditional client hardware. IT is seeing fewer calls about hardware problems and more calls about problems they can solve remotely. Citrix is making people all over the company happy.
So isn't it time you had a little joy in the reporting department?
Sure, the tools that come with Citrix can tell you about desktop connections and session status, and they can help you see who is using what. But you can't get solid, actionable information from Citrix about three important areas of virtual desktop infrastructure (VDI):
User experience — Are users having trouble logging in or getting their work done?
Citrix environment — Are sessions or machines failing? Which ones? Why?
Hardware/software infrastructure — Are there enough compute (CPU, network, memory) resources available to support Citrix? Is Active Directory working ok?
Without your fingers on those pulses, it's difficult for you to stay ahead of the curve and know what's coming at you from your virtual desktop environment.
New version of Foglight for Citrix XenDesktop/XenApp
In Foglight for Virtualization, Enterprise Edition, we've developed end-to-end performance monitoring for virtual environments. Now, in version 8.2, we're pleased to announce similar monitoring specifically for Citrix XenDesktop/XenApp.
Like the other Foglight "cartridges," this one is designed to help you figure out where problems are, what's causing them and how to avoid them. With the addition of XenDesktop/XenApp monitoring, Foglight extends its reach to VDI and thin applications in the three areas I mentioned above:
Foglight monitors actual user experience (latency and throughput) from your users' perspective. Administrators can now see network performance (through Netscaler) and then improve how users are able to work in XenDesktop/XenApp.
Foglight monitors running desktops and desktop groups to help you spot performance problems in VDI VMs and resources. For planning and managing VDI capacity, Foglight allows you to find trends in desktop utilization and compare them with available desktops in all desktop groups.
You can keep an eye on what's going on under Citrix — the hardware/software infrastructure and Active Directory that Citrix depends on.
This screenshot shows LAN and data center latency. It's the main screen you'll use to monitor user experience: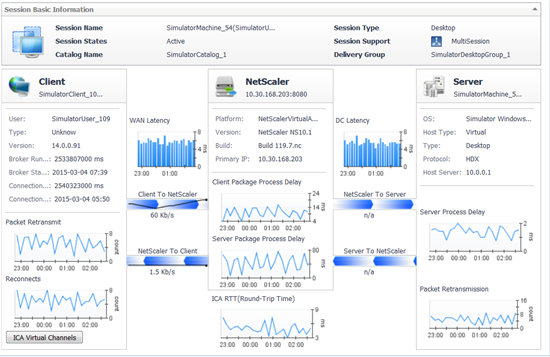 Next steps
Over the next three posts I'll go through Foglight's dig-down approach to monitoring XenDesktop and XenApp in the areas I've described. If you want better reporting and more detail with your Citrix VDI management, stay tuned.
Meanwhile, you can download a free trial version of Foglight for Virtualization, Enterprise Edition, version 8.2 and take it for a test drive in your own Citrix environment.