Uh oh. Something isn't right with Foglight. There's fatal alarms and emails flying in every direction. Or maybe everything is fine, but you need a hand with some maintenance tasks. Perhaps some clarification on a setting, or a rule? Foglight Support to the rescue! You ask and we find answers. It's what we're here for.
You know that when you reach out, we will work with you to find a solution that gets you back on your feet again... But wouldn't it be nice if we could get to that solution sooner? We think so too. Here are a few key pieces of information that can be attached to a newly created Service Request to speed up the time to resolution considerably.
Support Bundles
I can't think of a case where a Support Bundle isn't useful. It even has "Support" in the name! We love 'em. When tackling a new case, this is almost always going to be the first thing we look for. Foglight has a lot of moving parts. The Support Bundles show us how all of the pieces fit together.
These contain the Foglight Management Server (FMS) or Agent Manager (FglAM) diagnostic information along with logs, versions, the configuration settings unique to your environment.
In a case where an agent is misbehaving, we'll want to take a look at a Support Bundle from the FglAM hosting the affected agent, along with a Support Bundle from the FMS so we have an end-to-end view of the issue.
To create a Support Bundle from the Foglight Management Server, navigate to:
Administration | Setup & Support | Support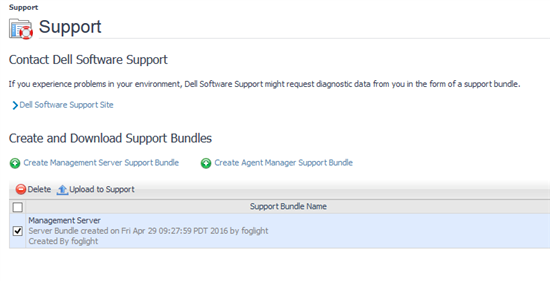 Screenshots
A picture is worth a 1000 words! If there's an error appearing in the FMS console… or something isn't showing up where it should, a quick screenshot helps to illustrate the problem. Foglight has lots of nooks and crannies and sometimes it's tough to describe a particular location. A screenshot (or two!) can help to ensure the Service Request is routed to an expert in the relevant area.
Thread Dumps
Dashboard taking a long time to load? High CPU or Memory usage on the FMS or Agent Manager? Thread dumps are the way to go. In any service request where Foglight performance is a concern, thread dumps are an essential tool in helping to determine what is keeping Foglight so busy.
Gathering 3 or 4 thread dumps, taken about 30 seconds apart (while the issue is occurring) gives us some insight into the activities that may be eating up resources.
To generate thread dumps, run the fms or fglam executable via command line with the '-t' option like below:
$FGLHOME/bin/fms -t
The thread dump will be written to:
$FGLHOME/state/dell-thread-dump-datetime.txt
Or course, these are just a few tools of the trade. We have lots of tricks to dig deeper should that be needed, but starting off a Service Request with the artifacts above puts you on the fast track to a quick resolution.
You can read more about gathering artifacts from Foglight, in our Knowledge Base here.