Let me tell you a story all about the DL…
Have you ever deployed a new software solution and had many sleepless nights over the implementation?
Many times we are told that this new software's strengths are "ease of use" and will "save time" etc, only to find out the new software is harder to setup than an IKEA bunk bed with a Hogmanay hangover.
I took delivery of a DL4300 with lots of excitement and a little bit of apprehension. I had been told how easy this was to deploy and set aside the full day to get the system racked and stacked… praying I had enough time to set some backups up, leave overnight and finish the implementation the following day.
After unpacking the system and removing all the padding, my first task was installing the rack rails. In the past these were a nightmare involving various screws and fiddling around with tiny screw drivers. Goodbye screws, everything is snip and clip. Securing the server to the rack couldn't be easier. With the rack rails installed, I slid the DL4300 in to its new home. Once I powered on the DL appliance, I spent a few minutes admiring the flashing LED lights (Have to say the more LEDs on an appliance, the happier I am).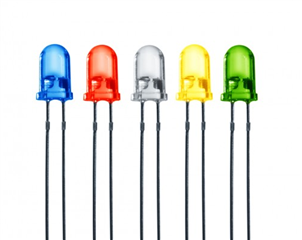 After getting over my LED addiction I got to work on setting up my new appliance. Once connected, I clicked on the desktop icon. An easy to use wizard was displayed advising me to assign storage for my backup repository and for my Virtual machine hot standbys- simple. After finishing the wizard, I noticed I had two new volumes with one being the backup repository.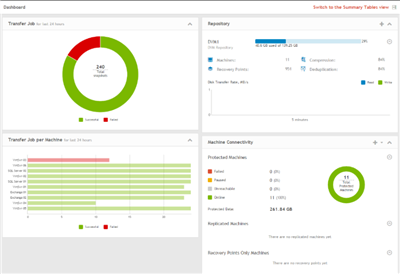 The next tab I used was the Protect Machines tab. Selecting "protect multiple machines", I then entered the vCenter address and credentials. Within a few seconds all hosts and VMs were listed and I was tasked with selecting which machines I wanted to protect. Feeling brave, I opted to go all out and highlighted ALL the VMs whilst also confirming the backup schedule. Finally, I had the option to 'auto detect' new VMs. This would automatically protect any new VMs created within the environment and apply a backup schedule. Of course, I said yes.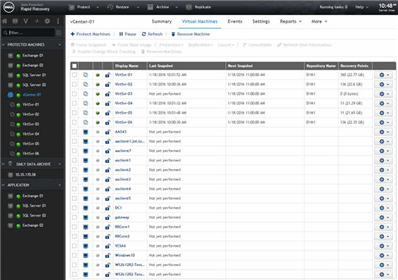 After exiting the wizard, I noticed the vCenter and all VMs selected appeared on the screen with the backups kicking off. All this was within 15 minutes of unpacking the appliance?!! This seemed too good to be true… I must have made a mistake, or missed a step? I just couldn't believe I had set up, deployed and protected my full environment with a brand new backup solution… all within 15 minutes!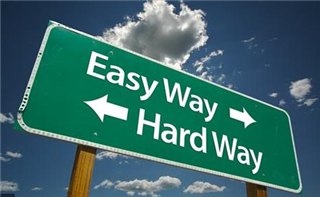 Thanks to the easy deployment, I was left with the rest of the day off. I decided to go back into the sever room and get my fix of blinking LEDs in all its glory.
Request a Demo by Email: EMEA.Inside.DataProtection@software.dell.com