After a full working week, spending most of your time in conference calls, meetings, appointments, reviewing marketing plans for the next quarters, discussing results with peers, sales, presales, you feel really tired and you are looking forward for the weekend.
When you realize that it's Friday afternoon and your weekend is almost there, you start thinking #TGIF, feeling the joy that the work week is coming to the end and that you will have two days off to enjoy, doing what you like and relaxing.
The only thing you want to do is to take a break from your daily routine. My way to do it, in particular in the summer, is to leave Rome and to go to the seaside, in a small village 140 Km south of Rome, in Gulf of Gaeta.
Scauri, this is the name of the place, is like my second home. It's also a full of history: here there are the ancient roman Minturnae ruins, with an amphitheater and an aqueduct. From the seafront you can have an incredible view of Gaeta and the Ischia and Procida island.
To me Scauri means spending time with my family and friends, and relaxing by the sea.
I consider myself very lucky, simply because my house is in front of the sea, and I can sit on the balcony or watch through the windows the immensity of the sea.
The sea, in all the different seasons, gives unique feelings made of bright and sparkling colors, and heady scent.
The color of its water, the sound of the waves, its calm, its restlessness, the unreachable horizon: feeling you experience when you are in front of the sea are not easy to tell.
Countless shades of blue, azure, turquoise, green, emerald, blue green, sea green, infinite and changing hues and colors, plenty of emotions and feelings.
Experiencing the ever-changing colors of sea, sky and land, from one hour to another of the day, or from day to day it's like a medicine to the soul.
This is the incredible color I see in the morning from my house: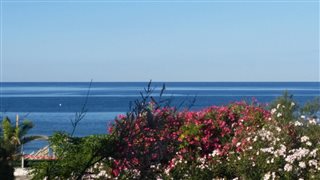 Well, now the weekend is over, and I feel completely recharged and ready to face the upcoming week.
Now I'm ready for what's next. It's time to a start a brand new and productive week!
And how did you enjoyed your weekend?
Stefania
Twitter handle: @StefaniaMktg