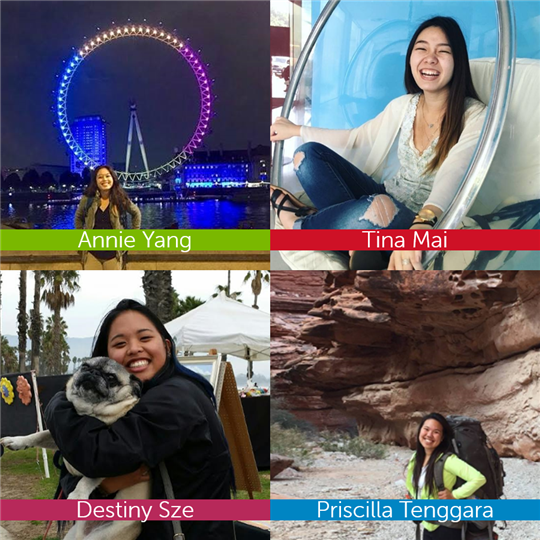 We recently had the pleasure of welcoming four interns into our organization. Rather than stick our interns in some dark cube and ask them to fetch coffee, we really integrate them into the business. Part of that includes getting to know more about them, including their goals, passions, and preference for Star Wars or Star Trek (probably the most important question).
In any case, without further ado, let's meet our interns from University of California, Irvine (UCI)!
Why did you apply to intern at Quest?
Annie Yang: While studying abroad in the Netherlands during the first half of my senior year, I learned a lot about the transition from traditional marketing to digital marketing and was fascinated by how rapidly marketing can evolve. Following my return to UCI, I decided to pick up a course in Data and Programming for Analytics to dive more into the quantitative aspect of marketing. For my final project, I wrote a code using Python to scrape data from my own Instagram account and then analyzed the data to make recommendations for posting times and content. Dell came to my campus the same quarter I took the class, so when I saw they had an internship opening for the Analytics team, I went for it because I enjoyed working on my project and wanted to learn more about the field.
Tina Mai: Considering my major emphases, Quest was the perfect place to put both my knowledge in marketing and information systems to use. I thought that it would be a great place to further my skills in both of those areas through hands on experience (and so far it has).
Destiny Sze: It has been my goal to intern on the business side of a technology-focused company. My motivation to apply to Quest was fueled by the excitement that I could learn from a top notch, industry-leading software company like DSG.
Priscilla Tenggara: I applied to Quest because I wanted to pursue an opportunity that would allow me to make an impact in the digital world, while working with Search Marketing and Analytics. Additionally, I really enjoyed the conversations with my interviewers and was very eager to learn more from them in the summer.
What are you most passionate about?
Annie: I am passionate about growth, whether it's fostering the growth of a company or a person. I want to make an impact in other people's lives by helping them realize their potentials, whether at work, in sports, or in my personal life.
Tina: I'm really passionate about capturing or creating something beautiful whether it be through writing, graphic design or even photography. Creativity is a big part of my life and something that I try to incorporate into my day as much as possible.
Destiny: I am most passionate about trying new things and learning from different experiences. I thrive off challenges that put me outside of my comfort zone.
Priscilla: I am passionate about using creativity to grow a brand's story. I strive to grow projects that create conversations with the community.
What skills do you want to gain from this experience?
Annie: I want to be comfortable with popular marketing tools many companies use to analyze their data, such as Adobe Analytics and Google Analytics. I also hope to gain a good marketing acumen through this internship.
Tina: I would love to gain more hands on experience with both writing and design through a marketing mindset. For example, I've always admired how well thought out collateral such as infographics are and I hope this internship can allow me to explore and see how things like that are created from the writing stage to the actual layout and graphic design.
Destiny: I hope to walk away with a good understanding of digital marketing and the behind-the-scenes work that goes into it, including the amount of collaboration that is required with all the different departments.
Priscilla: I hope to gain both hard and soft skills as I learn more about Pay Per Click Advertisement and Search Engine Marketing. Additionally, I'd love to gain the experience of working with seasoned professionals who can mentor me through the technology-marketing industry.
Star Wars or Star Trek?
Annie: Neither.
Tina: Star Wars all the way!!!
Destiny: STAR WARS ALL THE WAY
Priscilla: Star Wars
If you had one extra hour in your day, what would you do with that time?
Annie: I would probably go the gym or cook with friends.
Tina: Hang out with my nephew and dog back home!
Destiny: I'm really bad about cooking. I love to eat out and I always say it's because I don't have time to cook. So I guess if I had an extra hour I would have no excuse anymore.
Priscilla: Go on morning or evening hikes. I love the outdoors because it's a relaxing way for me to clear my head. Whether it's starting my day with goal-settings or ending my day with daily reflections, going on hikes is a fun way to exercise and think about day-to-day thoughts.
What are your goals after graduation?
Annie: I would love to pick up photography and learn other coding languages now that I have the time. My other goal is to run my first half-marathon in the fall.
Tina: I want to see the world the summer after I graduate and visit a few countries either in Europe or Asia. Afterwards, I will hopefully start full time in the fall doing something I love and won't think of as "work." Ideally, I'll get to a point in my life where I can provide for my parents comfortably the way they did for me.
Destiny: My goal would be to have a stable job lined up so that I can start paying off those loans and to travel to new places as much as possible. Also, I hope to own a pug.
Priscilla: My goal after graduation is to keep learning, whether it would be through a full-time position or my travels, I constantly seek opportunities to gain new perspectives.