The average systems administrator spends up to 75 percent of their time – and sometimes even more - just trying to keep the business functions going. This doesn't leave much time for learning, growth or innovation. However, there is a way to reduce the amount of time spent on common management tasks, and that is by choosing an efficient virtualization management solution.
We've recently commissioned Principled Technologies to conduct an independent lab test comparing Foglight for Virtualization, Enterprise Edition, against SolarWinds Virtualization Manager. The test was performed on a small environment that comprised 10 VMs, and the results might really surprise you.

In a side-by-side comparison, Foglight emerged as the clear leader for storage optimization, virtual machine memory and CPU optimization, and change management. While all three areas hold equal importance, for now I'll focus on storage optimization and why it's critical to virtual infrastructure management.

Optimize CPU, memory and storage

You heard it right, Foglight automatically optimizes memory and storage and does the latter 96 times faster than SolarWinds, which is only able to optimize CPU and memory*. With SolarWinds, you have to optimize storage using manual processes, which take up a lot of administrator time and are prone to error. Also, manual processes aren't scalable, and administrators are more likely to miss certain issues that could have been easily fixed.

Unlike SolarWinds, Foglight delivers recommendations for optimization and guides the administrator in taking the necessary actions to remediate issues. This helps eliminate resource waste and increases administrator efficiency. Another important difference is that Foglight allows you to schedule a storage optimization process to take place whenever you want, including during off-peak hours. And because the process is automated, it doesn't require an admin to be present. SolarWinds does not permit you to schedule storage optimization.

One VM at a time, are you out of your mind?

And that's not all. With SolarWinds you can optimize only one VM at a time. So you have to repeat the manual storage optimization process for every VM. With Foglight, you can automatically optimize any number of VMs at the same time, so whether you're optimizing 10, 100 or 1000 VMs, you only have to perform the process once. Think of what that means to large organizations that may have hundreds, even thousands of VMs.

Now for the test results

If you look at Figure 8 from the test report, it took Foglight less than 10 seconds to optimize storage for a single VM, and less than 20 seconds to optimize storage in 10 VMs. Compare that to SolarWinds in which optimizing storage in a single VM took more than three minutes, and optimizing storage in 10 VMs took more than 31 minutes.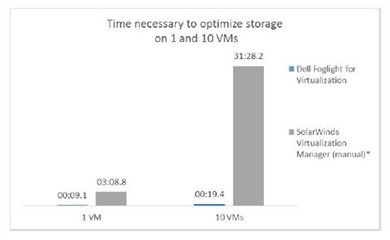 What does that mean for you?

Foglight's faster speed means you spend far less time managing your infrastructure, and that increases productivity. Foglight's expert guidance gives you greater insight into how to achieve maximum storage efficiency, and that means lower storage costs.

With Foglight for Virtualization, Enterprise Edition, you can visualize, plan, analyze and optimize your entire virtualized environment, with "end-to-everything" performance monitoring and management. Get a free copy of the competitive report and see how Foglight for Virtualization compares to SolarWinds Virtualization Manager.

* Based on October 2015 Principled Technologies report commissioned by Dell, "Virtualization-Management Comparison: Foglight for Virtualization vs. SolarWinds Virtualization Manager," comparing a trial version of Foglight for Virtualization Enterprise Edition to an online demonstration version of SolarWinds Virtualization Manager. Claims are based on features within the SolarWinds online demo, review of publicly available SolarWinds documentation, and customer verification.