Starting with version 12.10, Toad for Oracle will bring the Knowledgebase dynamically into the product's window. No more having to leave an application to search and find answers outside of the product.
Got an error?
No problem.
Click on a button.
BAM!
Relevant answers and solutions returned instantly!
It is nearly automatic. When the application generates an error, it displays an error box.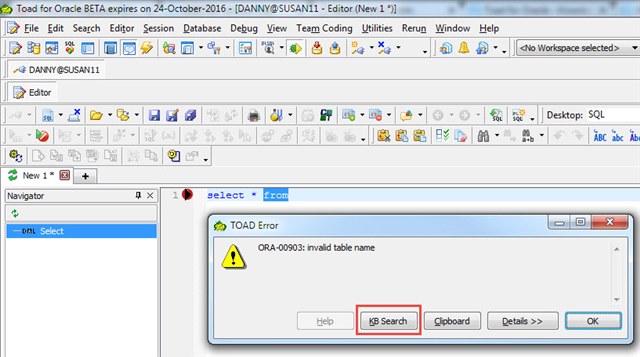 Within the error box, there is an option to execute a KB Search.
Clicking on the KB Search button, the API facilitates the execution of a dynamic search on the error.
The Support API retrieves and lists relevant Knowledgebase Articles and Community resources, like from Toad World.
Literally, scores of relevant knowledge resources are at one's fingertips!
Other non-Toad for Oracle users, this feature will be enhancing your products as well in the near future.
Additional details and a video that spotlights this feature can be seen in this Knowledge Base Article: Support Portal API for Toad Product line, KA212273.