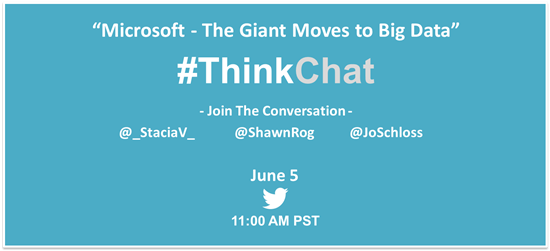 This month's #ThinkChat discussion on Friday, June 5 at 11:00 AM PST is focused on the role that Microsoft, a Dell partner, plays in mid-market enterprises and how new data challenges and opportunities are being addressed. Microsoft has capabilities and expertise that cover a wide array of critical business functions ranging from big data, analytics, IoT, SQL Server and Azure. For this live Twitter Chat, we'll be joined by Microsoft MVP Stacia Varga as we dive into these and other topics relevant to where Microsoft is creating value in your ecosystem. I'm looking forward to another engaging and fast paced conversation on this month's #ThinkChat.
Join the conversation!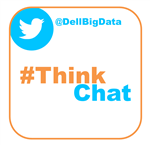 The #ThinkChat agenda includes:
1. Microsoft: Ways that the giant is moving into the enterprise world?
2. How does the Big Data movement affect MSFT's direction in the software business?
3. IOT and MSFT does MSFT – with their home entertainment systems, handheld devices and other on the go gadgets. Does MSFT have a play here?
4. MSFT, IBM, SAP, and Oracle – how does Microsoft affect the market place in the future? Are these mega vendors fated for change?
5. MSFT and Azure create new opportunities for the Enterprise? Will it disrupt?
6. Analysis is all the rage – how does excel play in this space?
7. Microsoft offers a myriad of solutions – PowerBI, Sharepoint, Excel, Access. Any thoughts here?
8. On premises or in the cloud – how does this eco-system shift affect the MSFT being a desktop solutions provider
9. Middle market development and developers have been on the MSFT platforms for years. How does open source change this ecosystem?
10. Will we see the emergence of a complex data ecosystem strategy by MSFT?
Where: Live on Twitter – Follow Hashtag #ThinkChat to share your thoughts, get your questions answered, and participate in the conversation!
When: Friday, June 5th 2015 at 11:00 AM PST